Karen, Advance Specialist Palliative Care Clinical Nurse Specialist at Torbay Hospital
Hi my name is Karen,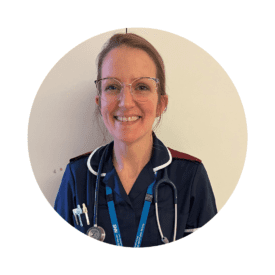 I am an Advance Specialist Palliative care CNS working within the team at Torbay hospital.
My interests in palliative care were sparked when working as a Community nurse, I enjoyed providing care and comfort for those families in their own homes. This this interest led to me to want to specialise in Palliative care, therefore applying to work at Rowcroft Hospice.
I began my new job thinking this was going to be all about supporting patients at the end of their lives, I was wrong. Rowcroft Hospice is much more than simply care and comfort in those last days and weeks of life. It is about supporting those patients who have weeks and months, to improve their quality of life. To give them support and guidance around their symptom management. Supporting patients, families and friends – cats, dogs and even horses!
What did I do during my time at Rowcroft hospice:
As a professional I grew.
My knowledge of medications increased, how they work, what they are used for, what symptom they target.
My knowledge and understanding of how to manage complex symptoms.
Learned how to truly understand the meaning of holistic care.
I learned the true meaning of compassion and empathy.
I improved my communication skills, allowing me to have difficult conversations with patients/families and how to respond appropriately to difficult situations, calmly and effectively.
I cared for patients and their families. I listened to the stories of lifetimes told to me, I smiled, I laughed (a lot, after all is this not the best medicine?) & I cried (a little).
Since leaving Rowcroft to join the Hospital Palliative care team I have further progressed in my career, I am currently under taking my MSc in Advanced nursing practice. I feel without starting at Rowcroft and gaining the most valuable underpinning knowledge I would not be where I am today. I am extremely grateful for the opportunity I had working at Rowcroft Hospice.
I feel working at Rowcroft Hospice would be a great opportunity for any nurse to advance their skills and knowledge, whether this be as a newly qualified nurse wanting to gain experience, for a lifelong career in specialist palliative care or other speciality this would be a great first step.