Each year, a beautiful wildflower meadow is sown in the grounds of the hospice to celebrate the lives of those people we loved, and still love, dearly.
It becomes the most soothing place to sit, remember and reflect in peaceful surroundings.
Choose from the list of carefully selected flowers below and make a dedication in memory of someone special.
Your seed(s) will be sown around the beginning of April depending on the weather conditions at the time, and the meadow will flourish and bloom over the following months.
Choose from the carefully selected flowers to dedicate to loved ones: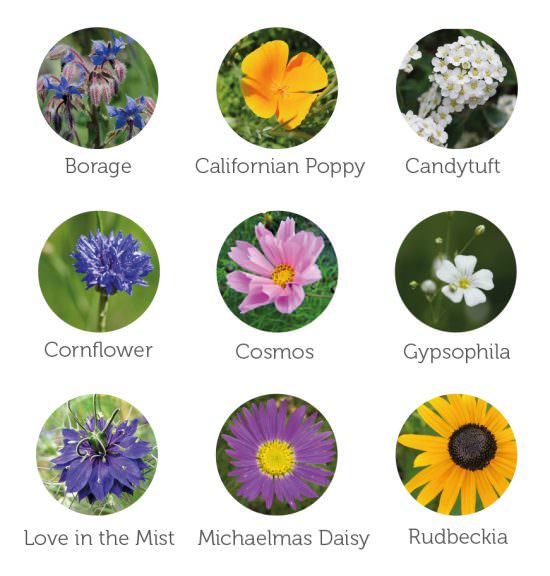 The invitation to dedicate a flower is open to all, not just those touched by Rowcroft's care.
If you wish to dedicate a flower please click on the 'Dedicate a Flower' button below. Alternatively, please get in touch with the Friends & Family team to make a dedication over the phone 01803 217405 or email inmemory@rowcrofthospice.org.uk.
There will be a celebration taking place here at the hospice within the beautiful meadow in July, when the meadow will be at its brightest and most beautiful. However, you are most welcome to visit the meadow at any other time throughout the summer months.
Please note that we have been planting out beautiful wild flower meadow for eight years and so other flowers naturally grow because of regermination in the meadow grounds.
To see how beautiful the meadow looked last year, please view our Meadow of Memories 2019 gallery below.
Image reproduced with Yvonne Coomber's kind permission.