Dedicate a flower in memory of someone you love
Each year, a beautiful wildflower meadow is sown in the gardens of the hospice to celebrate the lives of the people we love dearly and miss deeply. The meadow becomes the most soothing place to visit, to sit and reflect on happy times gone by.
To make a dedication in memory of someone special, simply decide on the flower you would like from the list below. Your seed(s) will then be sown around the beginning of April, and the meadow will flourish and bloom over the following months.
Our Meadow of Memories celebration event will be held on Sunday 10 July – see further details below. Last year's virtual celebration video can be viewed here.
Choose your flower from the following selection: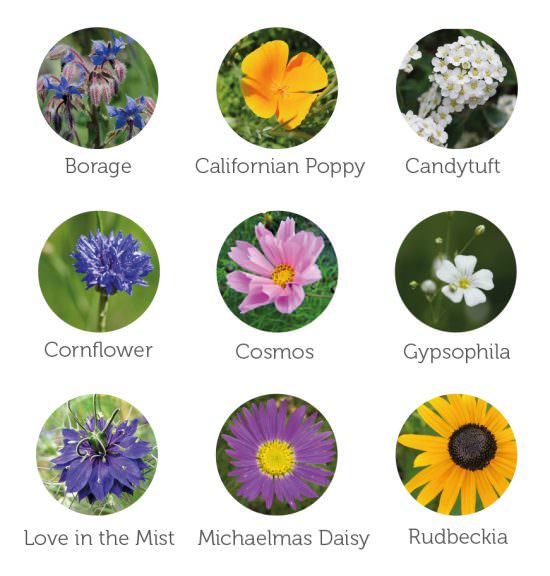 How your dedication will blossom
When creating your dedication, you are invited to make a donation to the hospice to support people with life-limiting illnesses in South Devon. Your kindness will make such a difference in enabling patients to make every day the best day possible.
£16 will buy a special memory box – to help families capture and cherish the memory of their loved one.
£30 will pay for a bereavement support session for a family member or carer, at a time when they need support the most.
£72 will cover the hourly cost of running the entire Hospice at Home service – caring for patients at home in their last two weeks of life and helping them to make the most of precious last moments with their loved ones.
£169 will fund a home visit from our Community Team, ensuring that families are given all the advice and support they need.
Since 2012, Rowcroft's Meadow of Memories has raised an amazing £300,568 – enabling Rowcroft's nurses and care teams to provide vital care and comfort to local people.
Sowing the seeds of love
"This year I will be dedicating a poppy for John, as a poppy was synonymous for him as he was so proud of those who had served and given their lives for others. It is also a very tall flower and that was my husband, not just tall in stature but also as a very proud man.
"The hospice enabled me to spend treasured time with John in those last few weeks.  John highly valued the Rowcroft team and I can't thank them enough for the wonderful care and attention they gave him whilst ensuring his kept his dignity which was so important to him."
Michelle Martin, whose husband John was cared for by the hospice before he passed away.
Meadow of Memories celebration
On Sunday 10 July, we warmly invite you to join one of our Meadow of Memories celebrations in the grounds of the hospice – where we as a community will come together to honour and remember the special people who we love and miss.
The celebrations will take place at 12pm, 2pm and 4pm and will provide a wonderful opportunity to listen to comforting readings, poems and restful music, and to reflect on precious memories. Each celebration will last approximately 25 minutes. Please stay for a while after to wander around the meadow and enjoy the flowers and beautiful surroundings.
A Memory Board will be placed in the meadow on the day – we invite you to bring with you a photo, a poem or a memory of your loved one. This will then be displayed in our Meadow 2022 Book of Love.
Light refreshments will be available, or please feel free to bring your own picnic. Car parking is free, but please car share where possible. In the event of rain, please bring a coat, an umbrella and appropriate footwear. If the weather is extreme, the celebrations will take place indoors. Dogs are welcome on leads.
Please tell us if you would like to attend one of the remembrance celebrations held in the grounds of the hospice on Sunday 10th July. Contact Jenny on 01803 217642 or email inmemory@rowcrofthospice.org.uk.
Visiting the meadow
If you'd like to visit our stunning meadow, we'd love you to do so at any time.
The best time to see the meadow in its full glory is between May and July – when you can relax in the warm sunshine, be soothed by the serenity of nature, and reflect on happy times with loved ones.
Meadow painting above reproduced with Yvonne Coomber's kind permission, and used to inspire Rowcroft's Meadow of Memories logo and designs.
Our Sponsor
We'd like to say a massive thank you to Ocean Healthcare for their amazing support in sponsoring this year's Meadow of Memories.
"Rowcroft's Meadow of Memories is an outstanding initiative. Ocean Healthcare love everything that Rowcroft does and are proud sponsors of the Meadow of Memories, particularly as they celebrate their 40th anniversary. We love the representation of the meadow blooming and the celebration of those close to us." – Ken Rudge, Managing Director at Ocean Healthcare