Welcome to our shops!
We're so thankful to all our amazing customers for supporting our shops and cafés across South Devon because every penny of profit from your purchase goes to support the hospice in caring for local patients with life-limiting illnesses.
Our shops and boutiques are brimming with sustainable pre-loved items, including gorgeous men's, women's and children's clothing and accessories such as jewellery, hats, bags and shoes, plus beautiful homeware, books, toys and electricals. Many of our shops also sell a selection of new goods, and two of our shops (in Paignton and Torquay) sell a wonderful range of furniture and white goods. Our shop cafés at Chelston and Churston (and our Ella's Mobile Café at Torquay Harbour) also offer the most amazing treats including scrumptious cakes, refreshments and light lunches.
Please remember you can also shop online with Rowcroft! Discover new and pre-loved clothing, sustainable fashion, antiques, books, vintage items and more in our Etsy, eBay, and Vinted shops.
Opening times
The following shops' opening hours are Mondays to Saturdays, 9am to 4.30pm: Babbacombe (Torquay), Bovey Tracey, Brixham, Churston, Chelston, Newton Abbot, Paignton (Retail Outlet & Furniture Shop), Preston, St Marychurch (Torquay), Teignmouth, Teignmouth Road Furniture Shop and Emporium (Torquay), Totnes, and Wellswood (Torquay).
Our Dartmouth shop is currently open Mondays to Saturdays, 10am – 5pm & on Sundays, 10am – 4pm.
Donations of goods
Your donations of good quality, saleable items for our shops are always welcome, including items of good quality furniture.
Your donations are vital in enabling Rowcroft to continue caring for our communities across South Devon. Your piece of donated clothing or other item will help pay for end-of-life care for our patients and we're so grateful for your support.
Our Furniture Collections Line is open Tuesday, Wednesday, and Thursday from 10am – 3pm on 01803 210832.
Please note there may be occasions when we're unable to accept donations due to our shops reaching full capacity. Thank you for your continued support. If you're unsure on what you can and can't donate to our shops, please visit our guide to donating.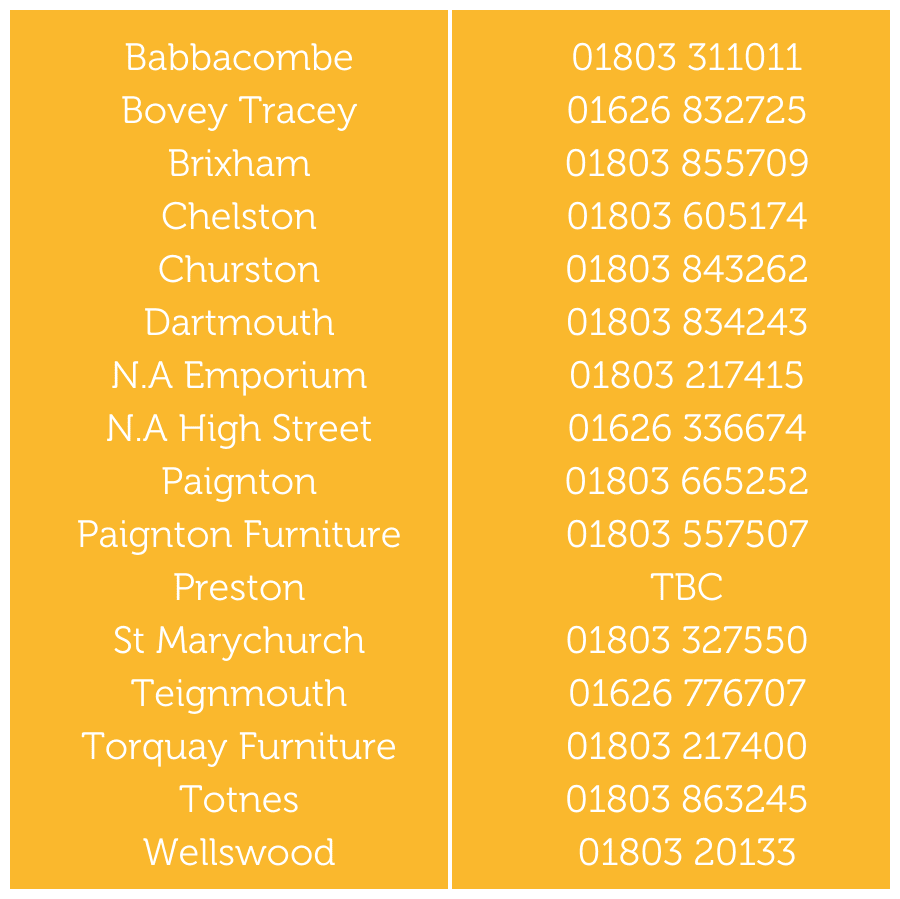 Rowcroft's online shops
Browse Rowcroft's online shops, including our Etsy, Vinted and eBay shops, to discover new and pre-loved clothing, sustainable fashion, antiques, books, vintage items and more.
Our gift vouchers are also available to purchase from our shops. Our vouchers entitle the user to spend the face value in any of our stores or online. Vouchers are available in denominations of £5, £10, £20 and £50 values.