Tea towel to raise vital funds for the hospice
Award-winning local artist, illustrator and author Laura Wall has designed a unique and special tea towel in celebration of Rowcroft Hospice's 40th anniversary. Created in her signature pen and watercolour style, the tea towels are available in Rowcroft's charity shops across South Devon with all profits going to care for local patients with life-limiting illnesses.
Teignmouth-based artist Laura Wall
"It's been so much fun creating this exclusive tea towel for Rowcroft," said artist Laura Wall. "I love creating little characters and these are all inspired by the people I have seen and jotted down in my sketchbook whilst at the seaside! I hope it makes a lot of people smile and raises some money for this fabulous charity."
Best known for her award-winning children's book series 'Goose' and for her fine art illustrations including her 'Seaside' collection typified by her trademark clouds and characters along with her bold, bright colours, Laura has her own gallery and studio in Teignmouth's vibrant art quarter. Laura has an impressive number of awards to her name including National Entrepreneur of the Year in 2016 at the Venus Women Awards and Britain's Best Up and Coming Artist in 2013. The Laura Wall Gallery won National Art Retailer of the Year 2022 by the Fine Art Trade Guild, and has twice been voted Devon's Best Art Gallery by Muddy Stiletto readers.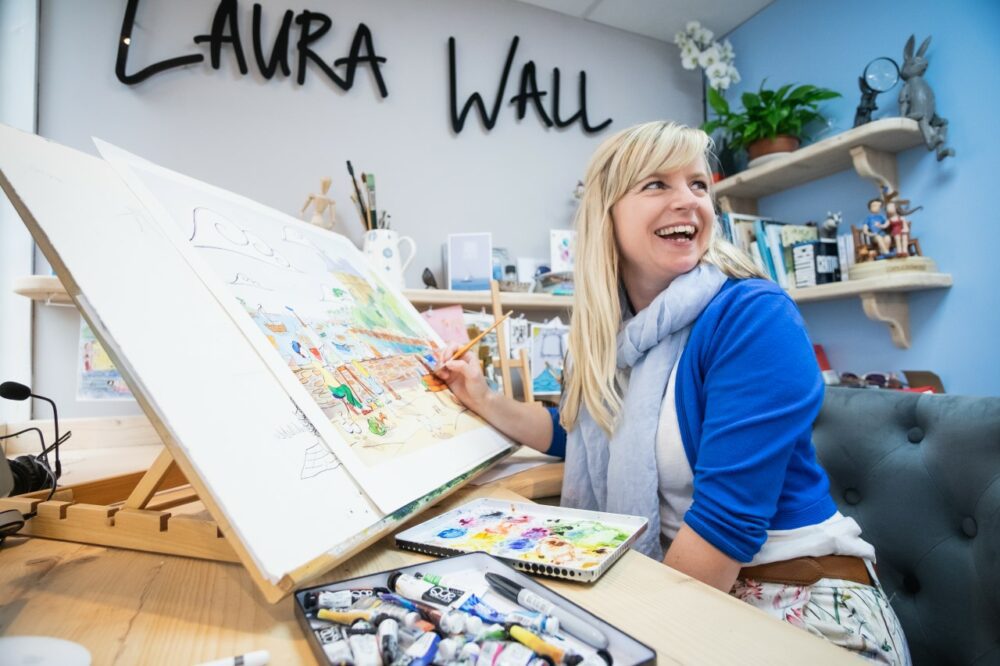 A unique partnership
"We're proud to be partnering with this talented local artist in launching this iconic tea towel as a special way of marking our 40 years of caring for the local community," said Rowcroft Hospice's CEO Mark Hawkins. "Laura's fun, quirky and striking style makes her artwork extremely sought after by young and old alike, and we know that this adorable illustrative tea towel that's inspired by the South Devon region will be a huge hit. We're so grateful to Laura for her sterling hard work and support in this collaboration.
"We'd also like to thank our sponsors Pier Point for all their support with this exciting venture."
The tea towel sponsors – Pier Point
Lorraine Arnold of Pier Point bar and restaurant in Torquay said:
"Pier Point is honoured to be part of this unique project that features the fabulous work of a brilliant local artist, celebrates Rowcroft's 40th anniversary and raises much-needed funds for a very worthy cause. Let's hope this is the first of many projects of this nature."
An exquisite souvenir or gift
Rowcroft's Head of Retail Caroline Wannell said:
"The tea towel makes a wonderful souvenir or gift with the profits from every purchase going to support the hospice in caring for our community," said "Laura's vibrant design highlights so many of the wondrous local attractions that we have here on our doorstep, and is a fabulous celebration of scenic South Devon and our marvellous community."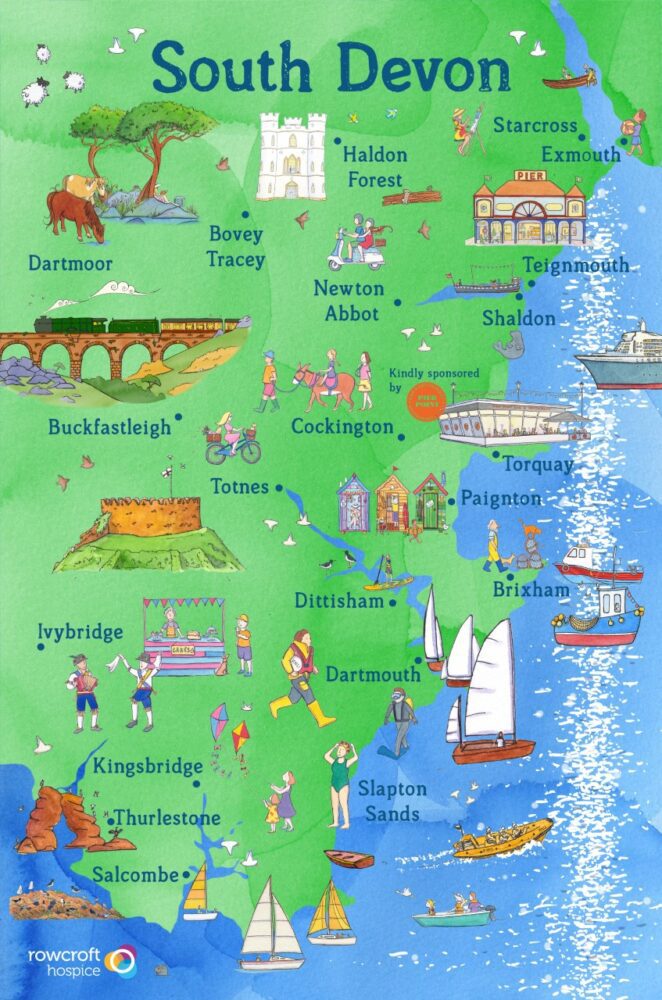 How to purchase
Priced at £9, the tea towels are available in Rowcroft's shops across the region and on Rowcroft's eBay store
More news about Rowcroft's 40th anniversary: