A fun, exciting and iconic game
Rowcroft Hospice has teamed up with Winning Moves, a subsidiary of Hasbro, and more than 40 iconic locations, venues and businesses to develop a special MONOPOLY South Devon & Torbay Edition that showcases many of the region's stunning local tourist attractions. Produced in celebration of Rowcroft's 40th anniversary and to raise vital funds for the hospice, the bespoke game is a unique twist on the original MONOPOLY, featuring dozens of local attractions, including the Princess Theatre, Newton Abbot Racecourse, Kents Cavern, Woodlands, Pennywell Farm, Paignton Zoo, and taking poll-positions in the Mayfair and Park Lane spots Thurlestone Hotel and Powderham Castle.
A favourite with all the family
"We're delighted to have been selected by Hasbro to develop this localised edition where players travel around South Devon visiting fabulous local attractions in a fun and exciting game that's a firm favourite with all the family," says Rowcroft Hospice's CEO Mark Hawkins. "The development of this game is a timely initiative as it coincides with our 40th anniversary year, and is a fitting celebration of our four decades of caring for our community. In addition, it provides a ground-breaking new income stream for the hospice to support patients with life-limiting illnesses across South Devon."
How to purchase
Priced at £30, the new MONOPOLY game can be ordered by clicking here and it will be available to purchase in Rowcroft's shops across South Devon from early September.
Buy MONOPOLY South Devon & Torbay Edition
Two lucky golden tickets
'Devon's Top Attractions' is supplying two 'golden tickets' that will be hidden within two games. Each lucky golden ticket winner will receive a whole year of free days out (worth over £1,500) with free entry to over 30 South Devon attractions for up to four people.
A spokesperson for Winning Moves said:
"We are delighted to have worked with Rowcroft Hospice on the launch of the official South Devon edition of MONOPOLY. South Devon was chosen for not only being a beautiful part of the country but also for its strong sense of family and community – something that ties in wonderfully with the MONOPOLY brand. We hope this special edition brings joy to households across Devon and beyond."
The game's local sponsors
The game was developed with sponsorship from over 40 local businesses who received profiling on various elements of the game, including the names of the 30 property squares on the board and customised instructions that feature local businesses in the Community Chest and Chance cards. Brixham Fish Market, a green property square on the board, is the headline sponsor. Adam Mudge, Finance Director at Brixham Fish Market, said:
"Brixham Trawler Agents, the operators of Brixham Fish Market, are very pleased to be part of a project that supports the local tourist industry as well as a fabulous local charity. The MONOPOLY Project is a really good idea and provides us with a great way to support the local community."
A wide range of attractions
The special edition game has also provided a mechanism for smaller local businesses to achieve significant exposure to help promote their attractions. Amy Greenman, Marketing Director at Canonteign Falls, a red property square on the board, said:
"When we heard that Rowcroft Hospice were designing a bespoke MONOPOLY board for South Devon and Torbay, we were thrilled to be given the opportunity to be included in such an iconic game. It's great to see so many smaller businesses in the final board design and not just the big names in tourism."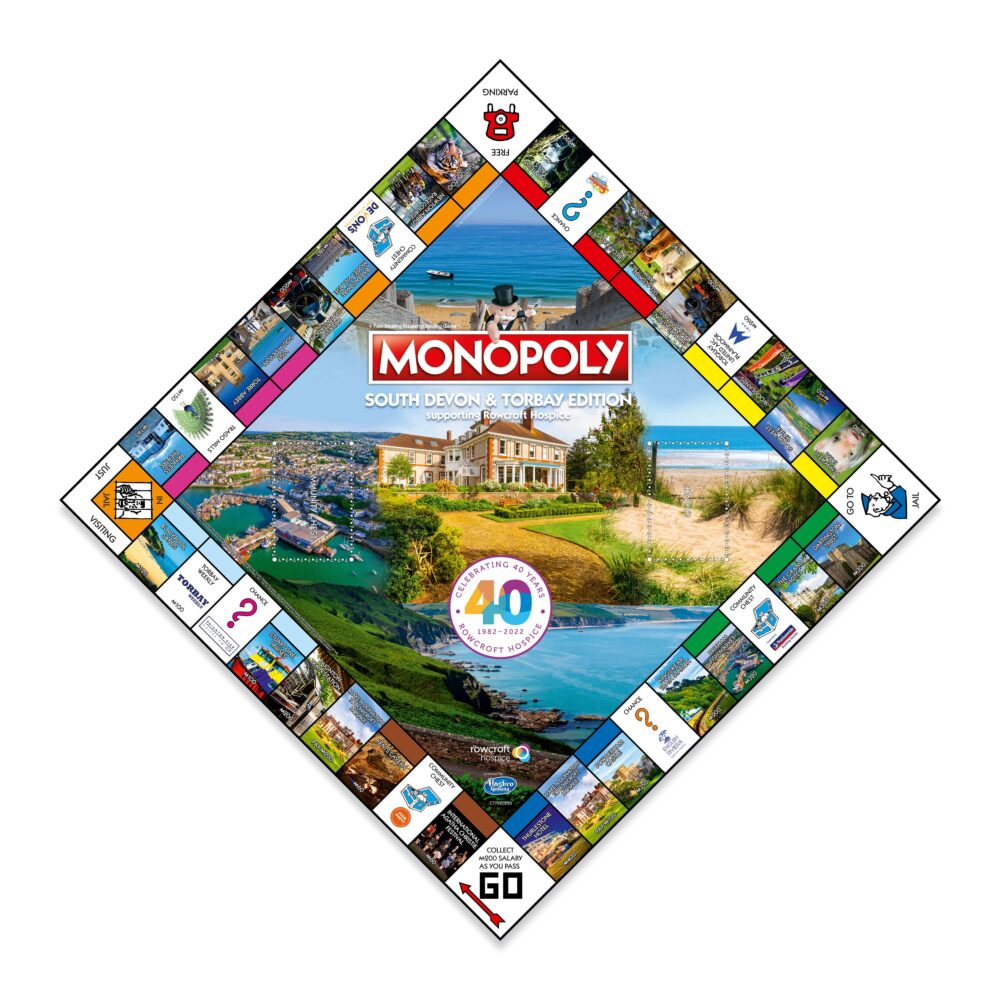 Rowcroft's CEO Mark Hawkins said:
"For us as a charity, the new income generated by the sales of the game is crucial through these financially challenging times. The demand for our care has never been greater and we're expanding our care to reach more of our community, so every penny counts in helping us to support patients and their families across the region.
"Please do make a purchase and join us in celebrating so many of the wonderful treasures of South Devon while also helping to care for our local community. This unique localised set makes the perfect gift for birthdays and Christmas or just as a treat for yourself!"
Buy MONOPOLY South Devon & Torbay Edition
More news about Rowcroft's 40th anniversary: