Featuring charming cottage gardens, stunning wildflowers meadows and woodland gardens with carpets of bluebells, our Open Gardens programme for 2023 has it all.  Following the success of last year's Community Open Gardens programme, we've put together another exciting line-up for spring and summer 2023 with a beautiful array of gardens from across the South Devon region, including Rowcroft's own picturesque gardens in Avenue Road, Torquay.
With many gardens providing delicious treats such as fizz and nibbles, cream teas, and coffee and home-baked cakes, the hosts look forward to welcoming you. The gardens are open to all and will raise vital funds to care for local patients with life-limiting illnesses.
Raising funds for end-of-life care
"Last year, our wonderful Open Garden events raised enough funds for Rowcroft's Hospice at Home service to provide expert end-of-life care to nine patients in their last two weeks of life at home," said Debbi Shotton, Rowcroft's Senior Community Fundraising Officer. "This year we're hoping to raise just as much – if not more, and we're excited to showcase a variety of gardens in all shapes, sizes and styles with features such as ponds and lakes, orchards, veg patches, meadows, bogs, beehives and a small holding with chickens and mini-pigs! Our extensive programme includes gardens in Buckfastleigh, Bickington, Manaton, Teignmouth, Shaldon, Galmpton, Bovey Tracey, Newton Abbot and Torquay – all to raise funds to care for our community. There's something for everyone – whether you want to learn more about wild gardening, admire the colourful borders, or simply relax with a cuppa and a piece of cake in the most tranquil green space."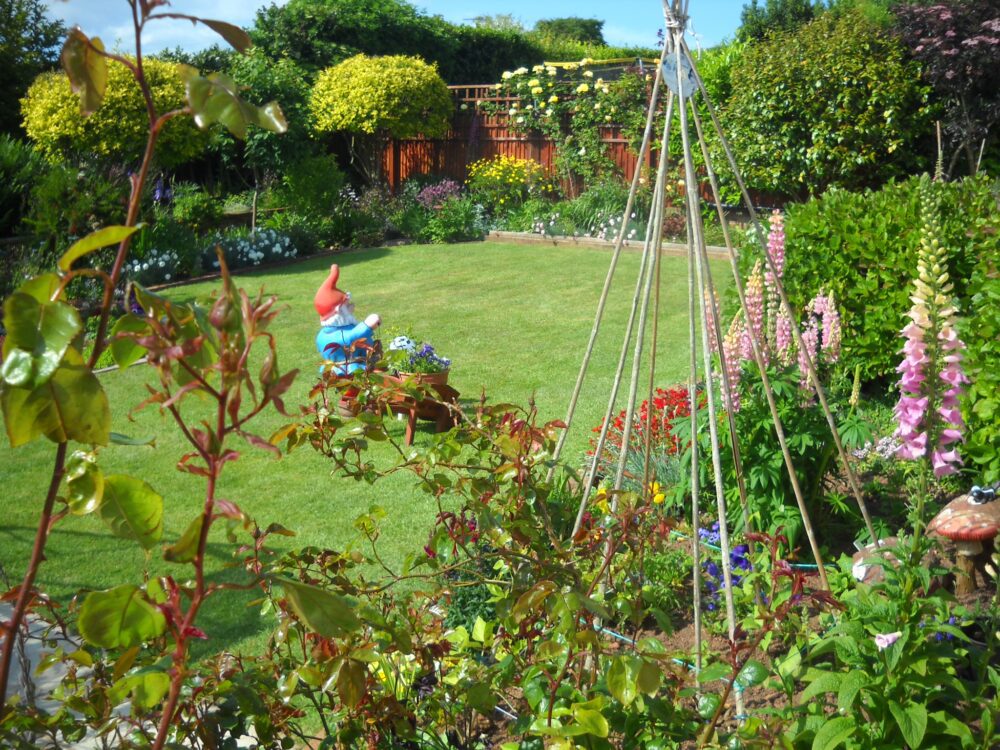 Rachel's garden in Teignmouth
Rachel Cook from Teignmouth hosted an open garden across two days in May last year and is back on board again this year. Rachel said:
"It was such great fun last time; I was more than happy to open my garden again this year. Rowcroft is close to so many people's hearts and it was wonderful to hear how much it means to those in our community. The fundraising team were a great help with tips and advice, so I didn't think twice about doing it again!"
Galmpton village gardens
Another welcome return to the programme on Sunday 11 June is the village of Galmpton where there's fabulous choice of around a dozen gardens to explore, from classic country gardens to grand 'show' gardens.
"We're so grateful to all our talented, green-fingered friends who are generously opening their garden gates to the public, and we'd also like to thank Majestic Holidays for kindly sponsoring this amazing programme," said Debbi Shotton. "The gardens all have something unique for visitors to enjoy, and we encourage everyone to visit a garden or two in your area to support your local hospice."
The Open Gardens line up
The first garden in the Community Open Gardens programme opens its gates on 12 May. Details of all the events are listed here along with information regarding parking, facilities and admission donations/fees. Money raised from the events will be used to fund the specialist care that Rowcroft provides each year to 2000 adults living with life-limiting illnesses across South Devon.
Open Gardens sponsor
Rowcroft's Open Gardens programme is kindly sponsored by Majestic Holidays. Company owner Mark Wright said:
"Here at Majestic Holidays, we are so proud to support such an important charity in our local community. We know what a special role they play in helping patients and their families at the end of life and it is wonderful to play our part and sponsor the Open Gardens again in 2023."
More news from Rowcroft