Following a three-year appeal, and with the support of our local community, Rowcroft has increased the provision of our Hospice at Home service across South Devon to enable more patients and those closest to them to receive the very best compassionate care in their own homes in the last two weeks of life.
Caring for our patients and loved ones at the end of life

Most people prefer to be in the familiar surroundings and comfort of their own homes with their possessions, loved ones and pets around them towards the end of their lives. Rowcroft's Hospice at Home team makes this possible for patients by helping to care for them and support those closest to them so that they feel comfortable and dignified right until the end.
Expanding our Hospice at Home service
With the support of the South Devon community, we have been able to expand this service by recruiting more nurses and healthcare assistants and therefore being there for more local people who are facing the hardest times imaginable.
Rowcroft nurse Megan Thompson said:
"It is a great privilege to be there for people at the end of their life.  Most patients prefer to be in their own homes; it's where they are most comfortable. Supporting patients and their families to enable this to happen makes the world of difference at such a difficult time.  People only die once and we need to get it right."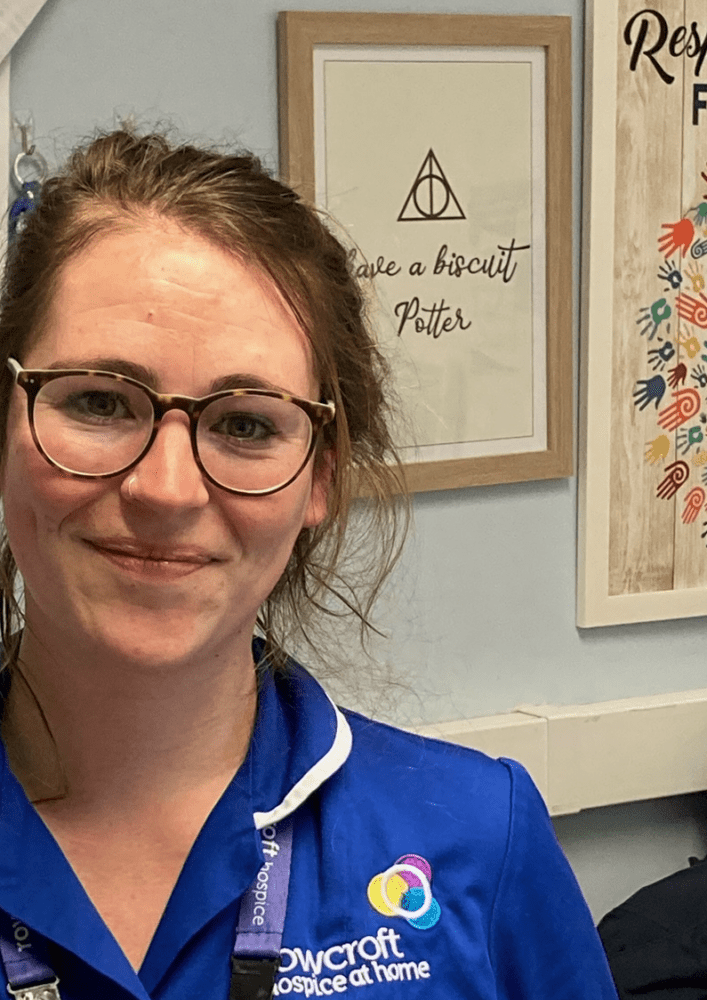 The impact of Hospice at Home
Janet Gorge (pictured here with her daughter) was supported by the Rowcroft Hospice at Home team in July 2002 following a diagnosis of bowel cancer.
Her daughter, Chloe, said:
"The months leading up to her death were difficult, as we tried our best to support her from a COVID-safe distance. In the last week of her life, Mum barely slept – and nor did we. She was up every five to ten minutes wanting the toilet, or a drink, or pain relief.  We felt clueless, helpless, and tired. We couldn't carry on like this for another two weeks; we were exhausted and emotionally drained.
"Mum wasn't herself that last week. She was rude, angry and confused. She didn't want us calling for any extra help, but we couldn't carry on without it.
"The Rowcroft Hospice at Home nurses arrived, to an initially angry Mum, and soon calmed her down. They performed what I can only describe as magic as they changed her bedsheets and got her comfortable and more like her normal self again. Then they sent us downstairs for an eerily silent cup of tea – we were all a bit shellshocked by this point!
"One of the nurses came down with us, to listen to our concerns and answer our questions. I remember her asking what our greatest fear was. Though none of us had said this to each other, we all told her that we were worried there were weeks of this to come. Whilst she of course couldn't give us a timescale, she did reassure us that she didn't think Mum had weeks.
"She told us that she could organise someone to come and stay with us overnight. The change of atmosphere in the house was palpable: instant relief.
"Mum was now calm and sleeping happily, no longer in pain, so the nurses left. The overnight nurse arrived later on. That night we were able to sleep, knowing that someone was with Mum.
"Early in the morning, the nurse woke us to come and be with Mum. We spent a peaceful two hours with her before she died. The lovely nurse faded into the background – leaving us to be together privately, whilst staying close enough to reassure us when we needed it.
"We're so grateful to the Hospice at Home team for helping Mum have a calm and peaceful death and for guiding us through her last 24 hours."
Thank you for your support
Karenne Weaver, Rowcroft's Hospice at Home Manager added:
"On behalf of Rowcroft, I would like to thank every organisation and individual who has supported this appeal.  It has enabled us to support more families at a time when they need it so much. We hear time and time again how our nurses and healthcare assistants have created a sense of calm and peace, giving reassurance to patients and those closest to them. We are so grateful to our community who have enabled this to happen. Thank you."
More news from Rowcroft