A treasure trove of bargains
As the cost of living crisis continues to impact upon people's disposable income and buying choices, the £1 rail at Rowcroft Hospice's Emporium is proving to be a popular source of bargains for the region's shoppers. Featuring a wide variety of clothing including items that haven't sold in other shops and garments in need of a little TLC or upcycling, the £1 rail is definitely worth a browse, according to Emporium volunteer Anna Gorton.
"On the £1 rail you'll find a wide variety of clothing such as t-shirts, jackets, cardigans, shirts, coats and trousers," said Anna. "There are also wonderful fabrics such as denim, silk or velvet that can be turned into beautiful garments or soft furnishings. You'll find splendid riches in every style, shape, size, colour and texture, with all profits from your purchases going to support the hospice."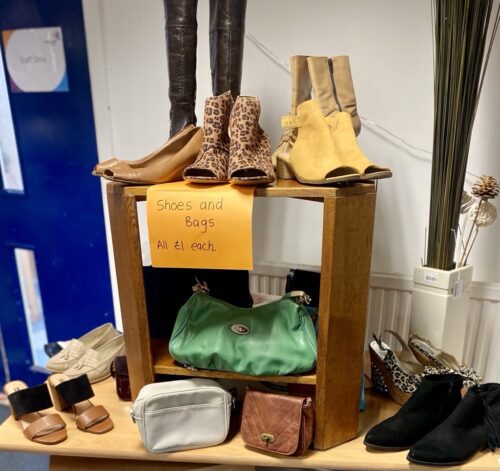 Volunteering at The Emporium
Anna has volunteered in The Emporium for 18 months. She wanted to give something back to Rowcroft after the hospice supported her family, and particularly her mother-in-law at home before she passed away.
Protecting our planet
"My experience in The Emporium has led me to be really passionate about reducing consumption, recycling and not buying new," said Anna. "We need to make our purchases more considered – we need to minimise the amount of waste, and we need to reuse as much as we can. If we're going to buy, then it's best to buy from charity shops where items are recycled. There are some amazing bargains to be found and it's certainly not about settling for second best. It's about having beautiful things in our lives that don't cost the earth.
"I now have a personal ambition to have a £1 wardrobe where everything inside it costs less than a pound. You can absolutely dress beautifully from your purchases at The Emporium; there are so many pre-loved treasures to be had."
Emporium Lead Samuel Down added:
"Our Emporium is an Aladdin's Cave with unique items and treasures galore at rock bottom prices, with all profits going to the worthwhile cause of caring for patients living with life-limiting illnesses across South Devon. As well as clothing and accessories, we have lots of bric-a-brac such as ornaments, homeware and china; books, CDs and DVDs that you can mix and match five for £1; furniture and soft furnishings including cushions, curtains and bedding; and even a wedding section with some beautiful bride and bridesmaids dresses. The shop is constantly changing as new stock arrives, and there are bargains to be found in every corner. We encourage everyone to come and browse for yourself –  we'd really love to welcome you.
"We're so grateful to all the generous people who donate items to sell in the hospice's shops. Their kindness enables us to raise money for the expert care that Rowcroft provides to our patients and their loved ones across South Devon. So if you're having a de-clutter, please do drop off your saleable good quality items. And if you're interested in volunteering, then please do get in touch as we're always on the look-out for people with spare time who would like to lend a hand across all our shops."
Further information about Rowcroft's shops