Allan Pearse from Paignton was diagnosed with cancer at the age of 57. It had come totally out of the blue: he had been admitted to hospital complaining of tummy pains, but tests soon showed that he was suffering from cancer and he was given only a short time to live. Here, Allan's wife Tina reflects on that difficult time and how Rowcroft's 'Hospice at Home' nurses and healthcare assistants were able to help her through it.
"The nurses were angels; they brought such a sense of peace," remembers Tina. "They poured something over us to soothe us, before they did the same to Al. These angels from Rowcroft, they do this 24/7; they are second to none."
Just a few days before Allan died, he had been transferred home from hospital so that he could be cared for in the peace, comfort and familiarity of his own home with his family by his side. Rowcroft's Hospice at Home team provided expert care and support to keep Allan relaxed and comfortable. A bed was set up in the lounge, where he had a beautiful view of the sea in the sunshine. Being at home enabled Allan and his loved ones to enjoy special time together in a way that wouldn't have been possible in hospital.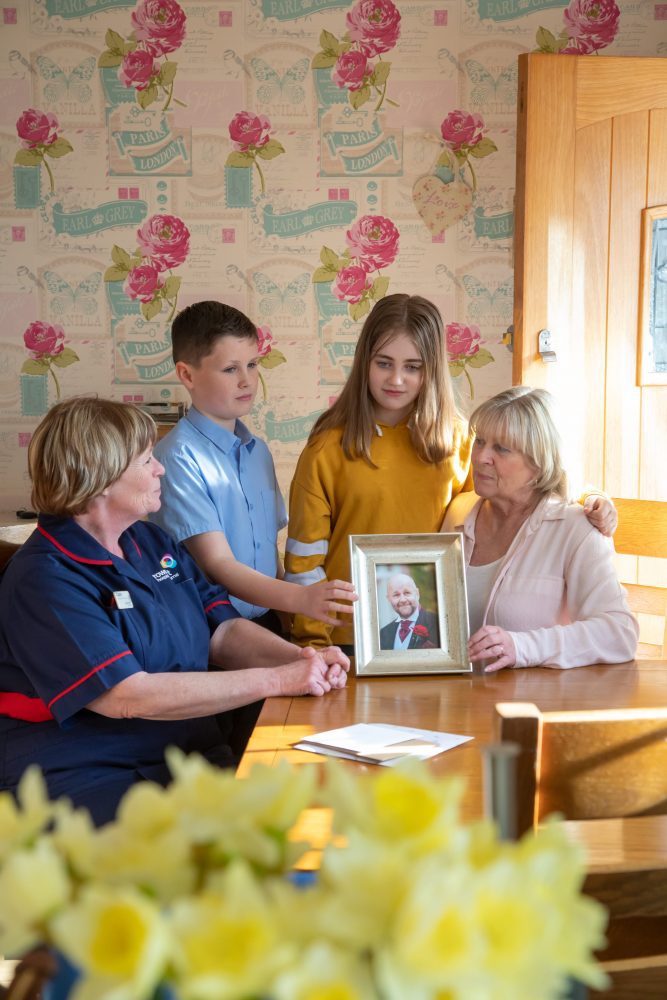 "We made it as normal as it possibly could be," says Tina. "For the kids, to be able to come home, see their dad, see me, have a chat, have a cup of tea − it was a bit of normality in the most abnormal of times, it meant everything.
"On the day before Al died, his friends and family visited him at home. All day people came; there was a steady flow throughout the day − they brought him so much comfort. He told so many people he loved them that day. And he was told he was loved. Very often people don't get that chance. He spent the evening watching the rugby with his family. This special time with his loved ones was priceless. For Al to be able to pass away in comfort at home, it was everything to us.
"It's so important to express how grateful we feel as Al's family, having been able to care for him in the last precious days of his life, thanks to Hospice at Home. It was crucial that Al was comfortable, calm and felt totally safe in the knowledge that his pain was being expertly managed by Rowcroft's team, without whom, coming home would not have been possible. It was Al's last wish to be at home with us all and Rowcroft made it possible for us to spend that short time together at home, right where he belonged."
Each year, Rowcroft's 'Hospice at Home' team cares for around 500 patients at home in their last two weeks of life. The team covers a wide area of South Devon from Dartmouth to Dawlish and up onto Dartmoor, with dedicated nurses and healthcare assistants helping to manage symptoms, provide effective pain relief, attend to personal needs, and offer emotional support. They also offer support to loved ones – giving family carers a much-needed break and a decent night's sleep, and enabling families to be just that – families – and to make the most of treasured time together.
With increasing numbers of local people requiring end-of-life care at home, Rowcroft has launched the Hospice at Home Appeal to raise vital funds so that more people like Allan can receive the love and support of Rowcroft's care at the time when they need it most. Money raised from the appeal will enable Rowcroft to recruit more staff to care for an additional 290 patients per year.
If you'd like to make a donation to the Hospice at Home Appeal – to help local families to make the most of last precious moments together and to support patients to fulfil their wish to be in the loving comfort of home when they die – please go to: www.rowcrofthospice.org.uk/home