For healthcare professionals who are caring for people through their last few weeks of life, hugs offered to patients and their families usually help in showing compassion in a way that words can never express. But over the last year, with social distancing regulations in place to keep everyone safe, Rowcroft's Senior Healthcare Assistant Louise Lacey has found that hugs in healthcare have fallen by the wayside. So Louise has had to look for alternative methods of offering reassurance and support to people who are facing the hardest times imaginable. Here, Louise explains why she's found social distancing one of the most difficult aspects of her work, and how she's learned over time to offer support and care in different ways.
"When I see someone getting emotional or tearful, I automatically want to offer to hold their hand or give them a big hug," said Louise. "So through the pandemic, I've found it really hard not to be able to give hugs to patients, family members or friends when they are upset or grieving for their loved one. I've had to learn other ways of offering reassurance, for example by replacing smiles with words and keeping social distancing in place. Families really feel this lack of physical contact. It lessens the impact of our care because hugs usually go such a long way in showing support and understanding when words are never enough.
"By nature, I'm also a very smiley person, so wearing a face mask is a barrier for my facial expressions and it covers my smiles. Plus the mask muffles speech and hides lip movements, which is a particular problem because most of us subconsciously lip-read while in conversation. But on the other hand, I fully understand the need to wear protective clothing to keep everyone safe from COVID."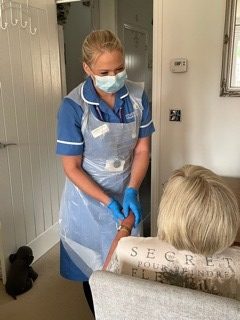 Adjusting to the communication challenges presented by PPE (personal protective equipment) has not been easy for any of our healthcare professionals. However, Louise has found there are ways to get around the 'barriers' that PPE creates. She has found herself speaking more slowly to counter the effect of the mask, using 'eye smiles' instead of 'mouth smiles', using exaggerated eye contact so that patients know they are really being listened to, giving people all the time they need to talk, and pausing after they've finished speaking just to make sure they've shared everything they need to. Some healthcare professionals are making more use of hand signals, for example by putting their hands over their heart to show that they understand and feel the emotional pain. The gloves create another physical barrier against skin-to-skin contact, but for Louise they enable her to offer to safely hold the hands of those experiencing the toughest times.
"I've always thought that if I was a patient, then I would want someone holding my hand, and I would want to know they were doing everything they possibly could for me," said Louise. "So I try to do everything possible for all our patients in every situation."
Working within Rowcroft's Hospice at Home team and caring for patients in their own homes in their last two weeks, Louise travels far and wide across South Devon. While she has only been with Rowcroft for six months, in that time Louise has visited people across the region from Dartmouth to Dawlish and up onto Dartmoor.
"I'm delighted to be working for Rowcroft," said Louise. "It's a charity that I have so much admiration and respect for, and it's a place I've always wanted to work, mainly due to some experiences in my personal life.  For me, the care Rowcroft gives has always been the best of the best.
"Coping through the pandemic has been very tough for everyone and especially for all of us here at Rowcroft. Additional pressures were created by the crisis, for example where patients who already had a life-limiting illness then contracted COVID too, and extra care was required. But there was no stopping us in responding; patients who needed our services were cared for.
"The Hospice at Home team is the most amazing team I could ever wish to work with and they work so hard to fulfil our patients' wishes and needs. When visiting patients, we always ensure their privacy and dignity are respected. We listen and attend to their wants, needs, and wishes, caring for them as well as supporting their family and friends.
"All the families I have visited have always been so unbelievably grateful to myself and the Hospice at Home team. They tell us that they are so thankful that their loved one has been able to meet their wish and die at home, being surrounded by the people and things they know and love. Unfortunately, only a quarter of people in South Devon achieve this. It would be fantastic if we could achieve this for more of our patients – statistics show that most people would prefer to be at home when they die, yet this often doesn't happen.
"Rowcroft is such a busy hospice and people across South Devon rely on our teams. They have relied on us even more during the pandemic. With so many changes in the world due to COVID, Rowcroft is still well-respected and highly regarded as a hospice people can trust. As a team, we want to make Rowcroft better than ever, and we are so grateful to everyone who supports us – so that we can care for more people in their homes and so they can make the most of every minute with their loved ones. And hopefully it won't be too long before we can share our hugs again too!"
Rowcroft has launched the Hospice at Home Appeal to raise vital funds so that more people can receive the love and support of Rowcroft's care at the time when they need it most. Money raised from the appeal will enable Rowcroft to recruit more staff to care for an additional 290 patients per year.
If you'd like to make a donation to the Hospice at Home Appeal – to help families to make the most of last precious moments together and to support patients to fulfil their wish to be in the loving comfort of home when they die – please go to: www.rowcrofthospice.org.uk/home