Rowcroft was the venue of a very special wedding earlier this month, that of Paul Moorhouse and Helen Nelson. It was a day Helen didn't think would ever come, as Paul was diagnosed with cancer of the oesophagus last year. Paul and Helen met in a Birmingham park 25 years ago. Helen was walking her dog and the pair bonded over a love of animals. While most couples head to a restaurant for their first date, Helen and Paul went to the Royal Agricultural Show! The couple moved to Devon a few years ago. Helen told us, "My dream was to live by the sea and Paul made my dream come true. We'd just started to feel content and then we found out Paul's diagnosis of cancer."
One of the hardest things for the couple was when Paul was admitted to hospital in March this year. Helen told us, "That was the first time that we'd ever really been apart. It broke our hearts. I just missed him so much. I don't think you realise until someone's ill how much you really love them." Paul was referred to Rowcroft, who assigned him a Palliative Care Nurse Specialist, Vernon Davis. With Vernon's help, Helen was able to care for Paul at home for most of his illness. She told us, "Every time we needed to see Vernon, I just rang him up and he'd be there. He's done so much for Paul's pain relief. He's such a beautiful man; he's fantastic and Paul loves him."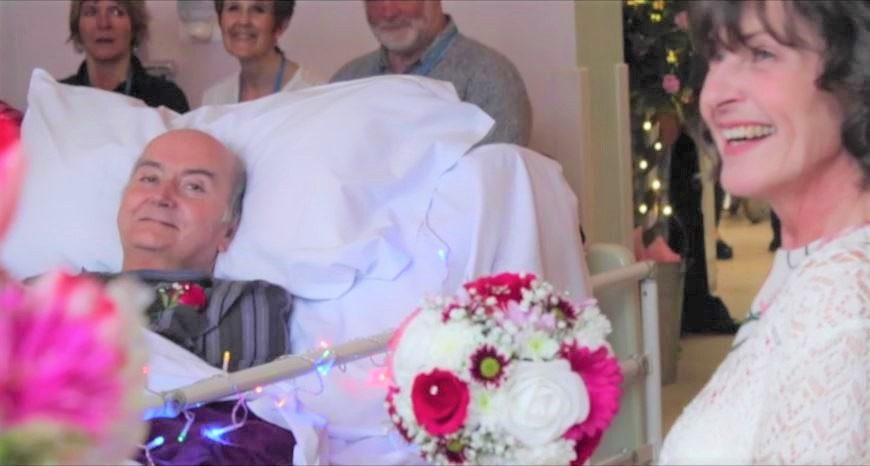 One of the most important services we provide at Rowcroft is supporting our patients' families. When a patient's health and care needs are taken care of, it gives friends and family members the chance to just enjoy their time with their loved one. As Helen says, "Rowcroft didn't just look after Paul – they looked after me as well." When Paul's symptoms became more difficult to manage at home, the couple took Vernon's advice and moved him to our Inpatient Unit. Helen had the peace of mind of knowing that Paul had round the clock specialist care and that she would be able to stay over with Paul if she wanted to. Helen and Paul were supported by a team of people, including Specialist Palliative Care Social Worker, Nicola Monks. Helen confided in Nicola that she wished she'd married Paul. Nicola told us, "Whilst speaking to Helen about all the concerns and worries she was having, I asked her, 'What is the biggest one? What is the main thing you would want from me at this point?' And she said that she wanted to get married to Paul. She said, 'It would be a dream come true – but we've left it too late.' So I said to her, 'Give me a minute, I'll make some phone calls…'"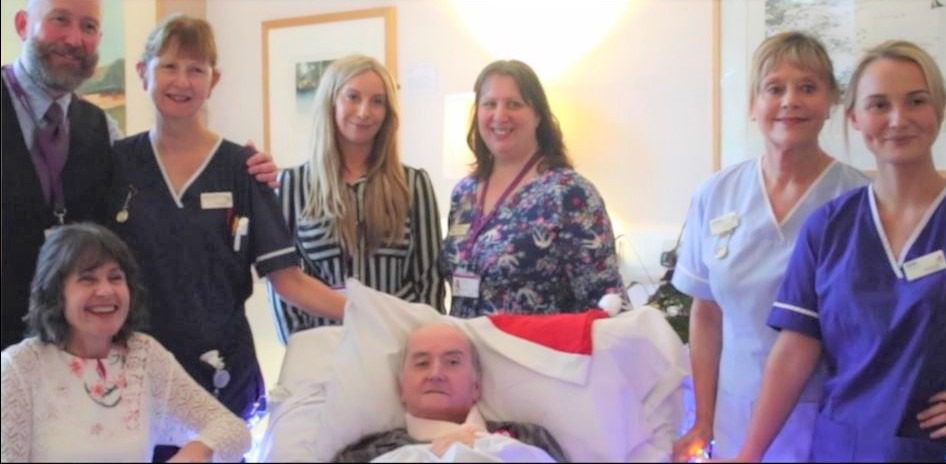 Half an hour later, Nicola called Helen with a date for her wedding! The ceremony was booked for 5th December, just a few days away. Now it was down to Helen to propose to Paul, which she did later that afternoon. Paul was delighted to accept, and excited to have something positive to look forward to. Weddings usually take months to organise. In this case, family, friends and local businesses rallied with Rowcroft to plan Paul and Helen's wedding in less than a week. Vernon, Paul's Palliative Care Nurse Specialist, was delighted when he was asked to attend the wedding, and even more touched when Paul asked him to play a role in the ceremony. Vernon sings with Totnes' Glorious Chorus and Paul wanted to surprise Helen with a song.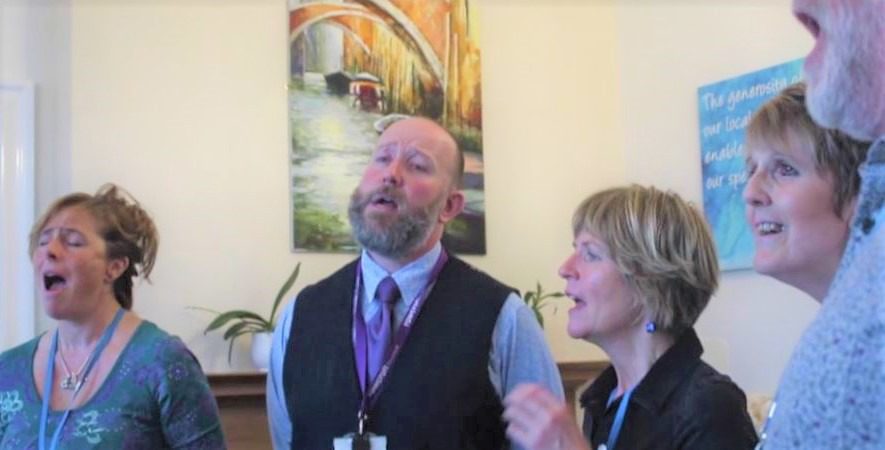 Paul and Helen decided to get married in Beech – a room reserved for family members, which has stunning views over Rowcroft's gardens and down to the sea. Les Fleurs florist in Paignton kindly provided the decorations – stunning bay trees with pink and white roses, along with twinkly fairy lights and vintage displays of roses and tulips. Becky Tapper of Les Fleurs said, "Rosey Oakes from Rowcroft explained that there was a wedding taking place on the Inpatient Unit and that Rowcroft really needed the support of local businesses to make it special. We were thrilled to be involved – the hospice is such an important part of our community." The final decorative touch was beautiful celebration balloons by Mary Poppins Balloons of Teignmouth.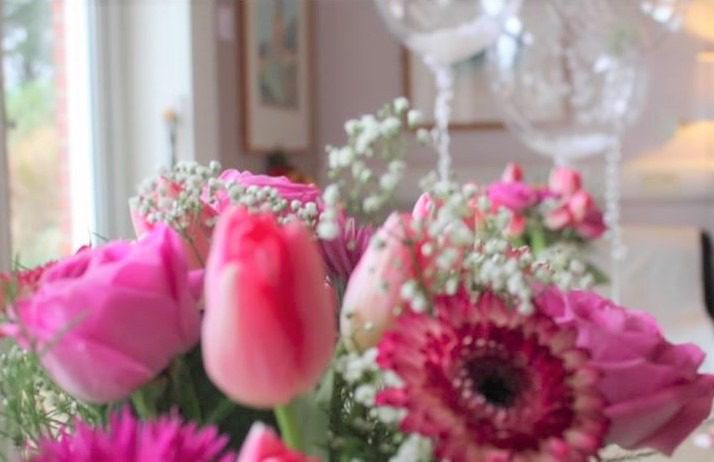 Every bride deserves some pampering, and Helen is no different. Lauren Delacy and Sophie Jarvis from Heathman Hair Studio in Ashburton volunteered to do Helen's hair and make-up for her big day. Sophie explains, "Heathman Hair Studio shares a special connection with Rowcroft and it's a charity very close to our hearts. All weddings are special, but this occasion felt extra special." Helen wore a pink and white dress and carried a bouquet made by a close friend. She was walked down the aisle by her brother, Alex, as Vernon and the Glorious Chorus sang 'This love will carry me'. Paul stayed in his pyjamas and two members of the Rowcroft team wore their own pyjamas so he didn't feel out of place. No wedding would be complete without food and entertainment. Friends and family brought party nibbles and drinks to complement the food provided by Marks and Spencer's of Torquay. After the ceremony, Helen danced the afternoon away to 60s music with her wedding guests.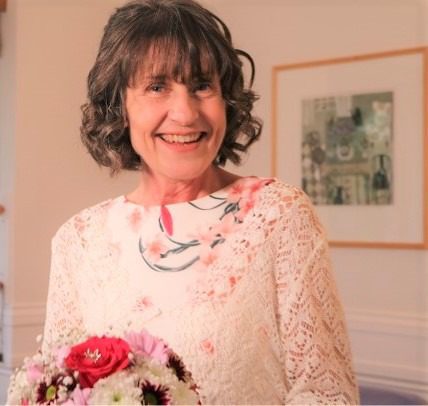 Paul's best man, Rhys Barry-Owen, told us, "Rowcroft is an impressive building, but it is just a building. I think what makes it special is the staff here. From the moment I walked in I felt comfortable. Paul has repeatedly told me how comfortable he is here and that the staff can't do enough. For those of you involved in the wedding, this is just incredible. The flowers, the smiles, the welcome and as a Welshman I certainly appreciated the choir!" People often think a hospice is a place of sadness. While there are times for tears, there are also times for joy, laughter and celebration. As Helen said, "Rowcroft is a beautiful, beautiful place where wonderful memories have been given to us. Everyone is so happy here. Absolutely beautiful people and beautiful memories. When I came to Rowcroft, I became Paul's wife, not just his carer."
Helen and her family have a wedding album of photographs to cherish, courtesy of Snappy Snaps in Newton Abbot, and a video of the day thanks to local videographer Connie Meek.
Paul passed away peacefully one week after the wedding, with Helen by his side. Helen and Rowcroft would like to thank the local businesses that donated decorations, food and time to make the wedding day extra special. Helen said, "Thank you so much, I cannot believe that people do this. Thank you from the bottom of my heart." At Rowcroft, we want to make every day the best day possible for our patients and their families. That includes creating 'Precious Moments' for them to enjoy. As Nicola Monks said after the wedding, "It's just been so exciting to share their day with them, their excitement, their happiness and their joy. Today has been very magical, very special and very unique and the reason why I am here doing this job and why I work for Rowcroft."