End-of-life care in the home
Travelling far and wide across the hills and villages of south Dartmoor, and through small towns including Buckfastleigh, Ashburton and Bovey Tracey, Rowcroft's specialist healthcare professionals visit patients in their own homes, offering end-of-life and palliative care to people with life-limiting illnesses.
Putting patients' needs first
For patients in their last two weeks of life, Rowcroft's Hospice at Home Team assists with symptom control and pain relief, enabling people to die in the comfort of their own home, surrounded by their loved ones, pets and familiar possessions. For other people with a longer prognosis who are living independently at home, Rowcroft's specialist clinical nurses pay regular visits, supporting patients' wellbeing and helping them to achieve the best possible quality of life.
Monika Cann and Kathryn Gilbert are two of Rowcroft's specialist community nurses who cover the moorland area on a job share. They describe themselves as two 'spokes in a wheel' – whereby the patients and their loved ones are at the centre of the wheel supported by a myriad of spokes that comprise a diverse range of Rowcroft specialists as well as those in the community such as GPs and other NHS health and social care professionals, and colleagues from care agencies and voluntary organisations.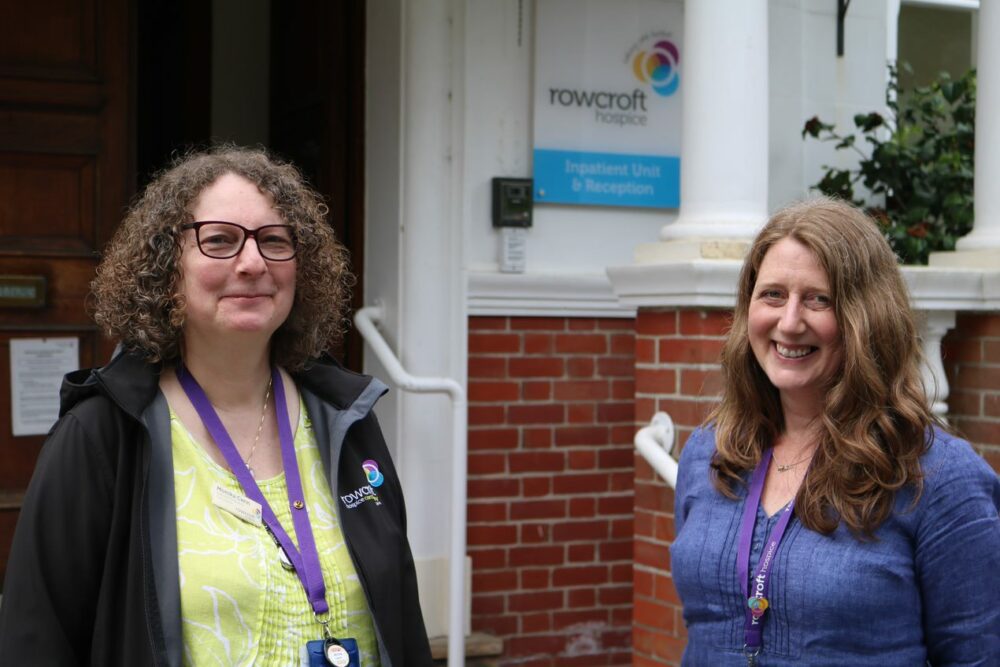 "Those referred to us often have less than a year to live," said Monika. "It's always been a privilege to work at this crucial time in each person's life as they come towards the end. Everyone is different, responding to the challenges that this time brings, and I try to deliver personalised support to all.
"My role as a specialist palliative care nurse is to address my patients' and their loved ones' concerns and to support other health care professionals. I meet patients and family/carers in their home, find out 'their story' of their journey in health so far, and assess their needs."
A multi-disciplinary team
The nurses often refer patients and those closest to them to other Rowcroft services for extra support, for example for occupational therapy and physiotherapy, complementary therapy, music therapy, bereavement support, spiritual care, or support from Rowcroft's social workers.
Quality of life

"I strive to enable people to have 'quality of life' despite the restrictions illness can bring," said Monika. "I help by giving time to listen and support and providing clear information and explanations. This is particularly crucial for patients when all active treatment has ended. They are often lost in the 'unknown' of what is going to happen next and how they are going to get through this. I am there to support them in that. For example, I help them to understand if they can claim for certain benefits, and I provide other practical advice and information. Even small nuggets of knowledge, such as how to get a blue badge for parking, help to make a real difference."
Rowcroft's care
Each year, Rowcroft cares for over 2000 patients with life-limiting illnesses across South Devon with 80 per cent of patients cared for in their own homes and care homes. Rowcroft also offers complex care to patients in our Inpatient Unit in Torquay.
Find out more about the work of the Rowcroft Community Team.
More news from Rowcroft