Getting through the hardest times imaginable
In April 2020, soon after Mary Howard, 70, from Kingsteignton had finished celebrating the remission of her multiple myeloma (blood cancer), she was given the devastating news about a biopsy. She was told that she had liver cancer and had just six weeks to live. Here her husband Keith, 73, reflects on their difficult journey through the final weeks of Mary's life, how Rowcroft Hospice was there for them, and how Keith "wouldn't be here now if it hadn't been for the hospice".
A pillar of the community
"Having retired from her career in the Civil Service in 1997, Mary dedicated her time to her local community," said Keith. "As well as caring for her elderly parents and working in various roles for Chudleigh Church, she was an active member of the Ladies Circle (sister club to The Round Table), and she became the Devon Area Chair in 1985. Subsequently, she was very active in Tangent (the follow-on club for Circlers over 40)."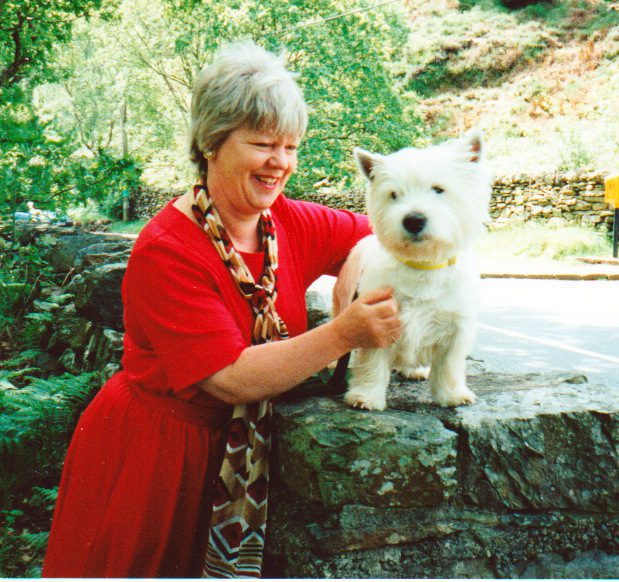 A cancer diagnosis
"In 2018, the myeloma diagnosis came as a great shock to both of us but, Mary took it in her stride, researching symptoms and treatments, and beginning a course of chemotherapy. She never once showed any distress or self-pity; she was always bright and cheery.
"In April 2020, Mary was called into Torbay Hospital for a final check on her myeloma.  We were overjoyed to learn that she was 100% in remission.  There was, however, a query on something that had been spotted near her bile duct, so a biopsy was arranged.
"In mid-May we went back to Torbay to get the results.  After what seemed like an age, a kind and caring consultant confirmed that Mary had liver cancer.  Mary asked him outright how long she had left.  He told her 'five to six weeks'.
"The two palliative care nurses who were in the room were fighting back the tears; the consultant was clearly upset; I was in total shock; and Mary?  Mary was making notes. She told the consultant that as they could not save or prolong her life, she would be going home tomorrow, where she could be with me for whatever time she had left. That evening, I drove home alone, opened my front door to an empty, silent house and collapsed to the floor and sobbed and sobbed."
Caring for Mary at home
"The next morning, I collected a beaming Mary from Torbay and drove her home. We settled into a routine with Mary getting up when she was ready and going back to bed when she had had enough. Over the next few weeks, we did a lot of talking and Mary did a lot of writing, but she was getting weaker by the day.  Soon she was not getting up, eating and drinking very little, and I had to lift her in and out of a wheelchair to get her to and from her bathroom.
"It was an honour to look after Mary, and I would have done anything for her but, doing that all day and all night on my own was wearing me away. I looked awful; I was gaunt and grey skinned and by May I had lost two stones."
Support from Rowcroft Hospice
"Out of the blue, two nurses appeared on our doorstep from Rowcroft's Hospice at Home Team, asking what they could do to help.  They arranged for a hospital bed; they set up a rota of night carers; they ensured that someone from Rowcroft came every day and that two carers came morning and night to provide personal care.  I had no idea who requested the referral to Rowcroft for us.  I now know.  It was Mary.
"For the first time in weeks, I went back to being Mary's husband; I could sleep, and I could eat, and we could relax together.  In June 2020, all too soon and only three weeks and three days after being given that awful prognosis, on the day before her 71st birthday, Mary died. Quietly, peacefully in her own room and in my arms just as she had wanted.
"Eighteen months after Mary's passing, I realised that my mental health was declining rapidly so I sought help from the Bereavement Support Team at Rowcroft.  The ten weeks of care and friendship that I received, I believe, saved my life."
A lifeline through care
"I can never fully express my gratitude to Rowcroft but I will do everything I can to support the hospice in the hope that anyone in South Devon who needs help in the future will benefit from their love and dedication as we did. The care that we both received and the support and friendship I have had for the last three years has meant that I am still here and able to share this story. We simply wouldn't have managed without Rowcroft."
No one should have to face end of life alone
"As a charity, Rowcroft offers a vital service to our local community. The hospice has recently launched an appeal – the No One Alone Appeal – which asserts that no one should have to face end of life alone. While we were grateful for the specialist support of the hospice, too many people across South Devon are going without vital end-of-life care due to a critical national gap in resources and funding. I encourage everyone to get behind Rowcroft's No One Alone Appeal to support the hospice in expanding its essential services to reach more people in need."
Rowcroft Hospice currently cares for around 2500 patients across South Devon per year. The No One Alone Appeal aims to raise an additional £500,000 per year by 2026 to help the hospice expand its specialist services to care for hundreds more people amid a rapidly increasing demand in the community.
To find out more about Rowcroft's No One Alone Appeal, please see: www.rowcrofthospice.org.uk/no-one-alone
More blogs from Rowcroft