This is the first blog in a new series on 'the hidden stars of the hospice' – where we introduce you to just a few of Rowcroft's hidden stars – people who are working tirelessly behind the scenes to make the world of difference for our patients and families. At Rowcroft, we're so lucky to have a whole galaxy of hidden stars – people who are providing a vital service to the hospice in their areas of expertise – from gardeners to housekeepers, from caterers to hairdressers. With their help, we keep the hospice running smoothly and we give our patients and families the best possible experience of high quality care.
In this blog, Debbie, our hairdresser in Rowcroft's Inpatient Unit, gives a fascinating overview of the remarkable role that she plays. Debbie has a close personal connection to Rowcroft as her aunt, grandma and mum were all cared for by the hospice, and for her, this makes her hairdressing service all the more meaningful.
"To do this job well, you need to be warm, compassionate and very good at listening! Sometimes it's not even about having their hair done, but more about having a chat. Hairdressing can be a bit of a therapy session if you want it to. I am always here to listen – whether the patient wants to talk about life, to have a rant, or to chat about something trivial like a new TV show. At the end of my visit, I always want the patient to feel as good as they can – whether that's by having a lovely haircut or by sharing a problem that's been on their mind. 
"I enjoy seeing people with smiles on their faces after I've finished cutting and blow-drying their hair; it definitely makes the job worthwhile. I love that my job lets me meet lots of different people from all walks of life. No day is ever the same, which makes my work very interesting. 
"My most cherished memory is of a patient who had come into the hospice after a stay in the hospital. She had been quite poorly but was feeling slightly better. She was so excited to hear that she could have her hair washed, cut and styled. When I had finished her hair, I showed her what I had done in the mirror. She cried and flung her arms around me (pre-covid) thanking me for making her feel like she was normal again. For me, this is what my role is all about; it gives me total job satisfaction.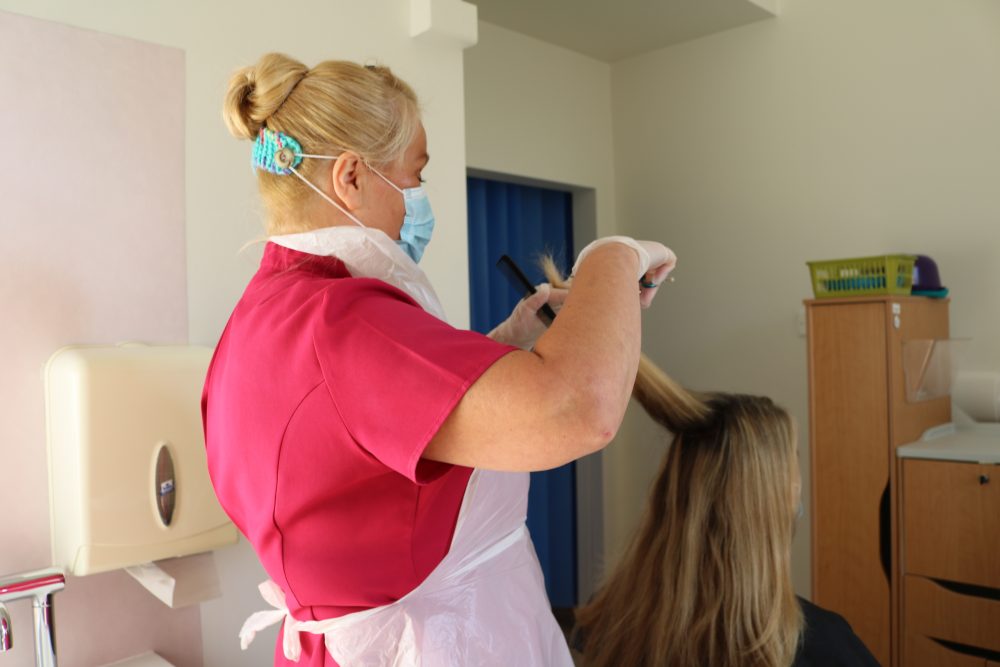 "Because I'm working in the hospice with vulnerable patients, and I need to protect them as much as possible from infections and viruses, I am used to sterilising my equipment on a regular basis. Although I take as many precautions as I can, COVID has been challenging with having to wear personal protective equipment (PPE). You can work up a sweat wearing protection on an extremely hot summer's day. However it's completely worth it to make sure the patients and myself are protected.   
"Not all patients like to have their hair done and I totally respect that. The patients are generally really appreciative, which is lovely to see. In turn, this makes their family happy to see the patient feeling better about themselves. If I am not too busy, I can sometimes cut hair for family members too. As some family members are constantly at the hospice or having to keep a grip on real life whilst they are going through a tough time, something as minor as haircut is one less thing they have to think about.
"I love being part of the Rowcroft team. I think they are a great bunch of people and they make my working day so much easier knowing I have such supportive people around me!
"My aunt, nan and mum all spent time in the hospice. The staff were amazing to them and so supportive to me and my family. It gave us all peace of mind knowing that these special ladies got to spend their last moments in such a great setting with such loving members of staff and surrounded by their family."