A challenge of a lifetime
Sky (25) and Poppy (18) are taking on the challenge of lifetime by jumping out of a plane at 15,000ft on 3rd June 2023 and skydiving to raise vital funds for Rowcroft Hospice. Inspired by the loving care that their Grandpa received from Rowcroft before he passed away, the sisters decided to take on the exhilarating challenge as a way of saying thank you to the hospice teams who supported their family.
Raising funds for the hospice
"It was nice to know that Grandpa was receiving such good care," said Sky and Poppy. "The teams really do go above and beyond. Having the Rowcroft team around with their knowledge of how to best look after him made such a difference. It's also lovely that Rowcroft's services are so holistic – our Grandma was even offered complimentary massages to help her de-stress and relax."
Nerves have already set in for the sisters' astounding skydiving feat, and their fundraising is well underway. They have raised an incredible amount so far and are hoping to smash their target of £2000.
Pushing boundaries
"I am the absolute opposite of an adrenaline junkie," said Sky from Newton Abbot. "I am usually the friend that holds everyone's coats when they go on rides. Doing a skydive is so out of my comfort zone; it's so nerve-racking, but I'm looking forward to the sense of achievement when I complete it."
"I am the total opposite," said Poppy from Ipplepen. "I'm pretty adventurous, but I have never done anything this big before. I'm apprehensive but also looking forward to it!"
Proud grandparents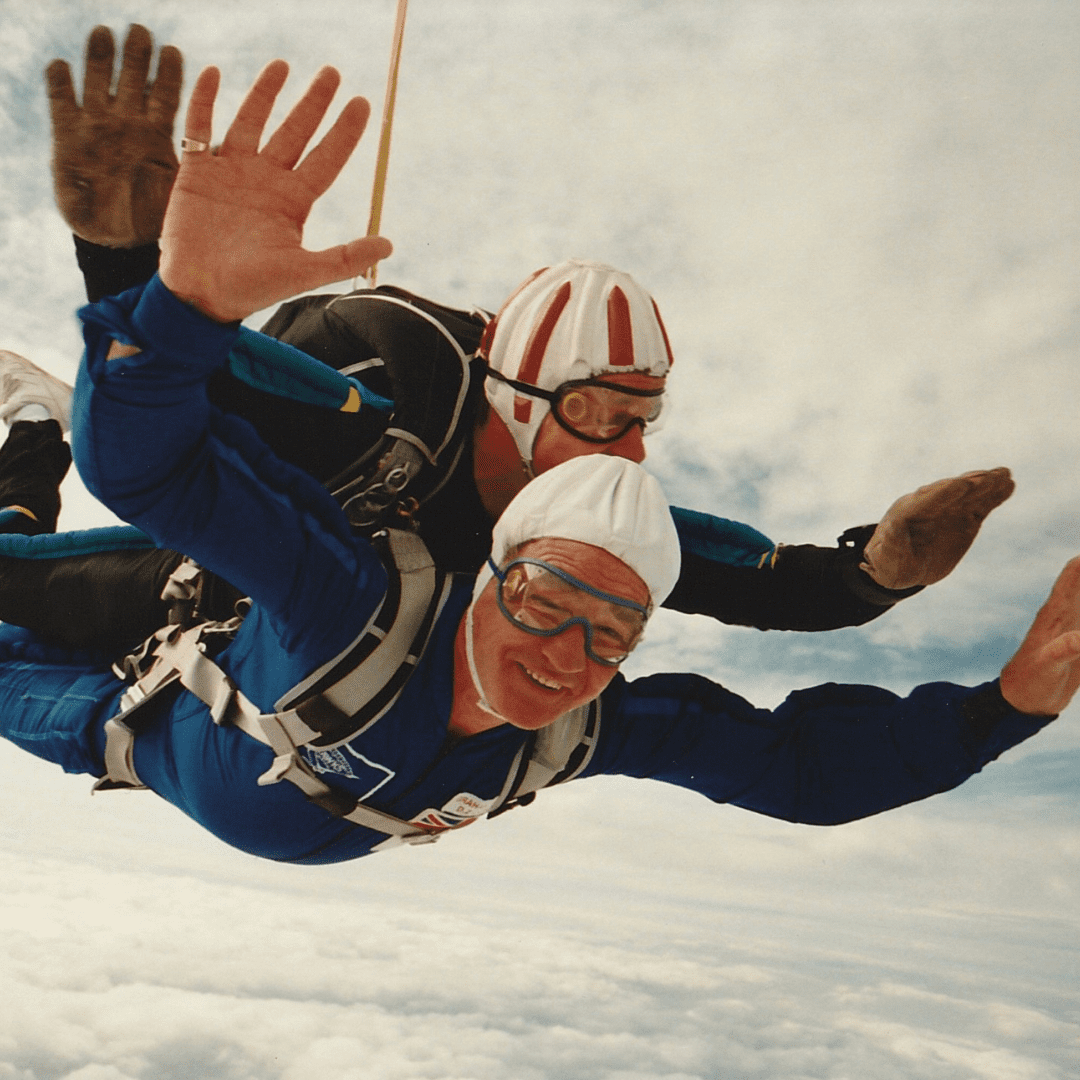 We spoke to Martin (Sky and Poppy's Grandpa) a few weeks before he passed away, and he was so proud of their amazing plans. He and his wife Jackie could relate to their ambitions as they took on a similar challenge themselves for their 26th wedding anniversary. Martin had a tough few years with illness and hearing all about their skydiving challenge made him smile.
"I couldn't believe that Sky is doing it because she is usually very risk averse," said Martin. "I'm not too surprised Poppy is doing it – I know she would do anything really and just go for it!".
Martin said to his granddaughters: "Just enjoy it and don't feel worried. As soon as it is done, you'll want to do it all over again, it's amazing. We are very proud of you both and it's a lovely thing to do for a brilliant cause.
"The nurses at Rowcroft are unbelievable. They're just magic, keen, humble by care and attention, and we are so grateful to have them."
Good luck to the girls!
Events and Projects Fundraiser at Rowcroft Hospice said: "Sky and Poppy are going to absolutely love their skydiving experience; it is one of the best challenges ever and the money they have raised so far is incredible. Their fundraising will help us to continue our work caring for patients across South Devon, from Dartmouth to Dawlish and up onto Dartmoor. It has also been super lovely hearing all about their story and we wish them the very best of luck with the challenge!
Rowcroft's challenge events
Rowcroft has a variety of challenge events taking place in 2023 to raise funds for the hospice. Now is the time to book yourself on and challenge yourself to walks, skydives and wingwalks! The hospice is also offering some new challengesincluding a Jurassic Coast Discovery two-day trek, a Snowdon at night mountain hike, and The Alps Trek. If you have any queries, contact Rowcroft's Fundraising Team on events@rowcrofthospice.org.uk or call 01803 217450.
Learn more about Rowcroft challenges