A two-day trek exploring the awesome Jurassic Coast, England's only natural World Heritage Site.
About the challenge
This two-day trek between 5-7 July 2024 will start with an amazing journey from Peveril Point to the beautiful Kimmeridge Beach, where you can dip your toes in the sea and search for fossils among the ancient rocks. On the second day, you'll trek further along the stunning South West Coast Path, where you'll take in spectacular views of Worbarrow Bay and the blue waters of the famous Lulworth Cove. The finish point is at the iconic Durdle Door, a limestone arch formed more than 10,000 years ago! Dramatic coastal views and world-famous landmarks await you, so join us for a weekend adventure to remember!
Challenge details
Challenge duration: 3 days
Activity duration: 2 days
Challenge distance: 24 miles approx.
Challenge grading: tough (2)
Minimum numbers required: 15
Accommodation type: hostels
Date: 5-7 July 2024
This event is run by Global Adventure Challenges. For further information and to book, please visit their website.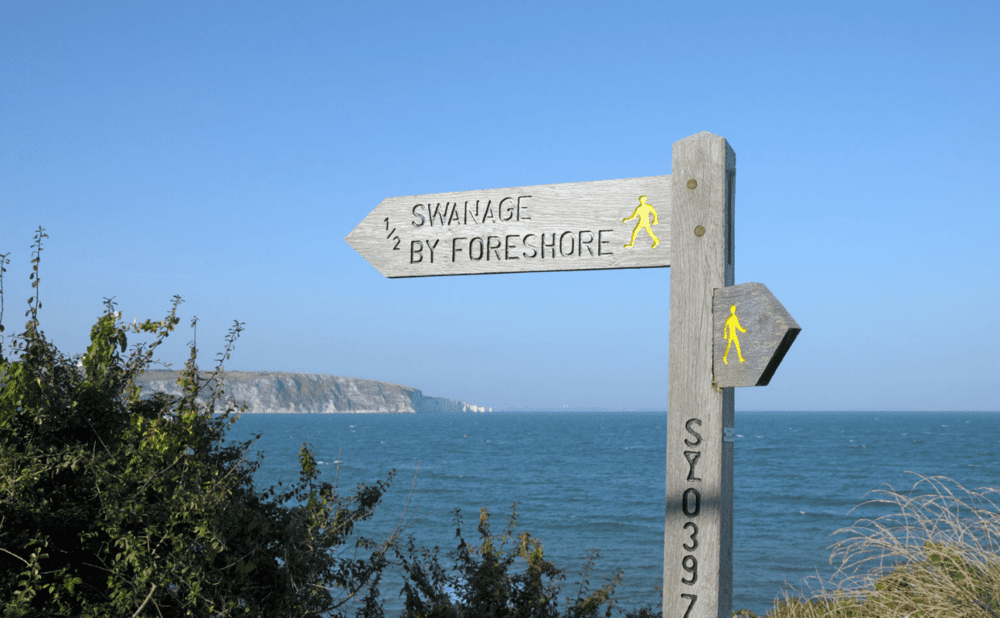 Three-day itinerary
Day 1
We meet at our hostel in Swanage early in the evening for a group meal and event briefing. There will be transport available to collect you from Wareham train station.
Day 2
Trek from Swanage to Kimmeridge
After breakfast we set off for Peveril Point – which sets the tone for the spectacular views of the Jurassic coastline we will experience during our trek! We continue on the South West Coast Path to Durlston Head, a country park on the cliffs above Swanage. As we approach Kimmeridge on our final stretch of the day, the route becomes much less undulating and we catch a view of Clavell Tower in the distance. Upon reaching Kimmeridge we have a little time to soothe our aching feet in the sea or even have a look for fossils before we transfer back to the hostel for a well-earned rest and evening meal. The trekking distance is approximately 14 miles.
Day 3
Trek from Kimmeridge to Durdle Door
After breakfast, we transfer back to where we left off yesterday and rejoin the Dorset coastal path. We soon enter Lulworth Ranges – land used as Army firing ranges. This land is notable for its steep sections as we follow the contours of the cliffs, but the remarkable views over Worbarrow Bay are worth the effort! There are more steep sections before us as we approach the famous Lulworth Cove, and our first view of this almost perfectly circular bay will take your breath away! We have time to take in the amazing twisted rock layers around the cove before conquering our last steep uphill over the white crumbling limestone cliffs that take us to Durdle Door, a clear arch in the rock carved out by the pounding waves. After a group photograph at the finish point, we transfer back to the hostel to collect our belongings and make our onward journeys home. The trekking distance is approximately 10 miles.
Please note, this is a complex itinerary and is subject to change.
What's included or not included…
What's included
Two nights hostel accommodation
Global Adventure Challenges Event Crew
All first aid equipment and supplies for the group
All meals will be provided from dinner on day 1 through to lunch on day 3
Complimentary snacks and fruit
Route guide per person
Bespoke challenge medal per person
Dedicated Customer Care after registration, including comprehensive supporting documents to help you prepare and train
Optional return transfers to Wareham Train Station
What's not included
Travel insurance
Tips and gratuities
Alcoholic drinks
Personal trekking kit (trekking boots, poles, etc)
Sponsorship Options
Option A
Minimum Sponsorship – There is a registration fee of £95 (non-refundable) and a minimum sponsorship of £570 to be able to take part in Jurassic Coast Trek. £285 of your minimum sponsorship would support patient care at Rowcroft Hospice plus any additional funds you raise.
Option B
Self Funded – There is a non-refundable deposit of £95 and then an additional self-funded cost of £285. If you then choose to fund-raise on top of this, then every penny of the funds you raise will go to support the hospice.
For further information and to book, please visit Global Adventure Challenges.
If you have any queries or further questions about this challenge, then please contact our fundraising team on 01803 217450 or email events@rowcrofthospice.org.uk
+ Google Calendar