With the COVID crisis dealing blow after blow to Rowcroft's retail outlets, especially with the closure of Rowcroft's shops through lockdown, we have been focussing efforts online to weather the storm and to continue raising vital funds to care for our patients and families across South Devon. In this blog, Rowcroft's Head of Retail Caroline Wannell explains how boosting sales online to increase our charitable income is becoming more important than ever.
"The launch of Rowcroft's new online shopping venture this year could not have been more timely," says Caroline. "With Rowcroft's shops and cafes forced to close for a second time in line with the recent national lockdown, online sales have become increasingly important for the hospice. Given the current escalating demands for end-of-life care in South Devon, finding new income streams to sustain our care is crucial, and our new retail website at www.rowcrofthospiceretail.org.uk is helping to do just that!
"The new shopping website features the crème de la crème of pre-loved vintage and designer fashion, hand-picked from the kind and generous donations of our amazing South Devon community. With unique vintage and designer clothing and stunning accessories such as bags, hats and scarves, the website also boasts a fabulous range of collectables, antiques, books, as well as new toys, games and Christmas cards. Rowcroft's ebay shop at www.ebay.co.uk/str/rowcrofthospice complements our online offering by selling a broader selection of good quality second hand items at fantastic prices.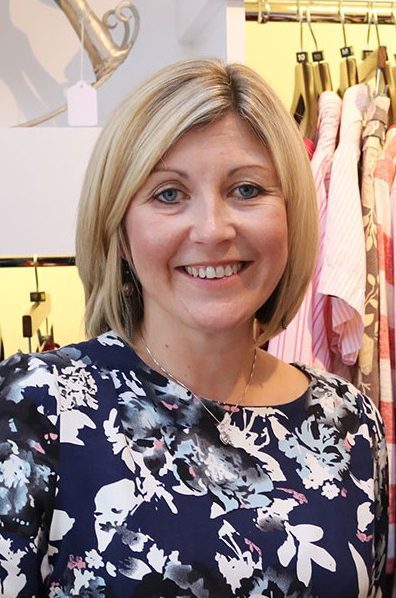 "Shopping online with us is a great way to support the hospice, as the proceeds from every purchase go directly to caring for patients and families across South Devon. With something for everyone, our online shopping channels are popular with customers young and old alike, and they particularly appeal to those who prefer a greener shopping experience because most of the items are pre-loved and recycled.
"The global fashion industry accounts for 10% of carbon dioxide emissions every year, and 20% of waste water. It is polluting our oceans, rivers and streams, and the vast majority of clothing ends up in landfill. As more and more people are becoming aware of this negative environmental impact, they are rejecting 'fast fashion' and seeking sustainable alternatives such as pre-loved clothing. This growing demand for sustainable clothing is really encouraging, and for Rowcroft, it's helping to generate much-needed income through the pandemic.
"Although Rowcroft's online shops are progressing with sales, our overall retail operation has been badly affected by the COVID crisis. Despite the incredible efforts of our Retail Team, including our wonderful volunteers, our profits have fallen due to the tough retail environment. For the sake of our patients and families to whom we are accountable, we have had to plan our recovery and adapt quickly to this new world of retail, to ensure our profitability and long-term sustainability, so that we can continue caring for our community in the future. We have left no stone unturned in seeking new ways to generate income for the hospice, but we've also had to make some very difficult decisions. Regrettably, this has involved a restructure of our Retail Department, including the permanent closure of three of our shops (Torquay town centre shop, Newton Abbot town centre shop and Newton Abbot furniture shop), as well as the scaling back of our distribution centre. And to further streamline our services, our shops have introduced a new 'smart stocking' model.
"We have been responding to events as they unfold, adapting and learning, and transforming ourselves to ensure our long-term sustainability and profitability. For us in Rowcroft's Retail Team, our core commitment to continue to care for our patients and families is the driving force behind everything we do. I am so grateful to all our retail volunteers and staff for their unbelievable support and hard work in helping us achieve this."