Will you take part in our pilot?
Rowcroft Hospice has launched a new social enterprise to deliver solutions for residents over 65 in the Torbay and South Devon area, to help them achieve optimum levels of wellbeing and independence. Named YOUCAN, the social enterprise is looking for 24 individuals living in their own homes to take part in its pilot scheme. As customers, they will benefit from YOUCAN's independent advice and solutions which aim to assist with day-to-day living and ultimately to support people to stay in their own homes for longer by delivering internal and external home improvements and modifications, including the installation of new technologies if appropriate.
Living life to the fullest at home
"These are exciting times as we launch this pioneering new social enterprise – YOUCAN," said Rowcroft's Hospice's CEO Mark Hawkins. "YOUCAN aims to help people to live life to the fullest in their own homes by delivering to them complete home solutions for improving their independence and wellbeing. YOUCAN will manage the whole process from start to finish to ensure the smoothest possible and hassle-free experience for the customer, and every penny of profit from the new service will go to support the hospice in caring for patients with life-limiting illnesses across South Devon."
The YOUCAN home assessment
The YOUCAN process begins with an initial two-hour home assessment by an independent occupational therapist who will make recommendations for home improvements, for example mounting a new handrail, widening a doorway or completing a larger project such as creating a new downstairs wet room. The initial assessment costs £249, and the recommendations will be costed by a qualified building surveyor who would then project-manage any works if commissioned.
"Of course there is no obligation for the customer to proceed with any of the recommendations," said YOUCAN Project Manager Justine Geldard. "If customers do decide to go ahead, they will have one main point of contact throughout and can be assured that through using this premium service the work will be delivered on time, to their specification and to a high standard."
Technological solutions
"Technology is an important part of the proposition because the world of technology is continually bringing out inspired, practical and user-friendly solutions that can assist significantly in enabling someone to remain in their own home and to feel connected," said Justine. "Much of this technology is appropriate to those with impaired vision, reduced dexterity, and memory, mobility and hearing loss."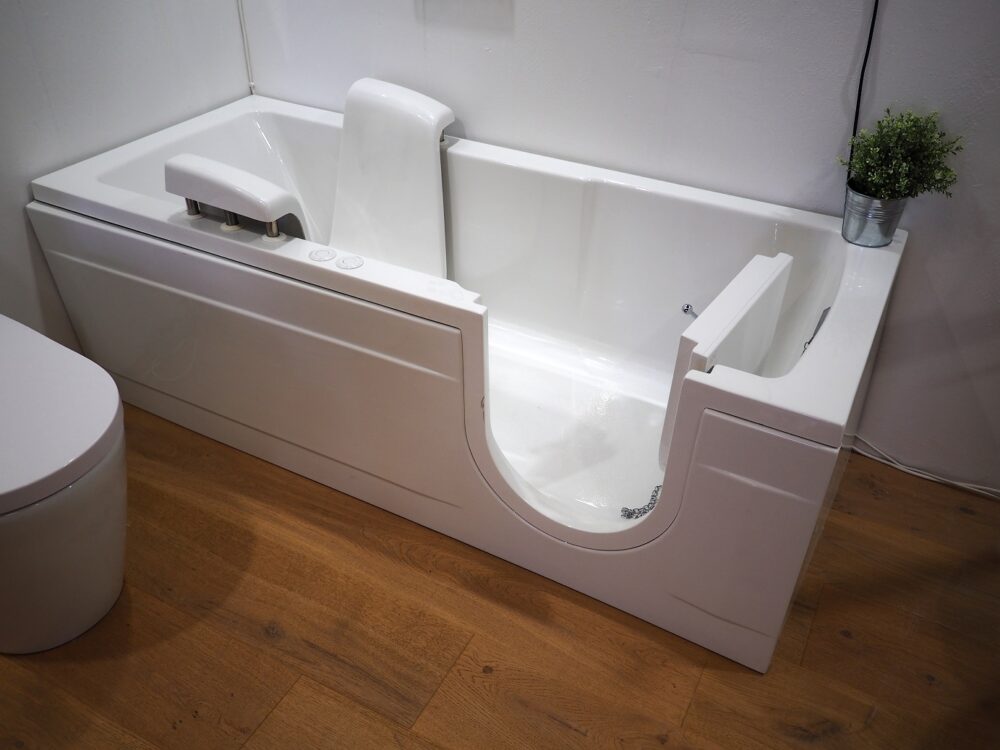 Transforming lives through simple home modifications
Wayne Dodd from Ocean City Therapy Ltd is one of YOUCAN's occupational therapists who has over 15 years' experience in face-to-face contact with clients. He visits people in their homes, assesses what changes may be beneficial to them and draws up a report with recommendations. "We put people first and help them to transform their lives by maximising their independence," said Wayne. "We will often suggest simple modifications to the home that can make the world of difference, helping people to achieve the best possible quality of life and bringing an improved sense of wellbeing."
Home renovations
To deliver the building aspects of the service, YOUCAN is partnering with Torquay-based building company Sherwoods. Managing Director Kevin Sherwood said:
"We're very honoured to be supporting Rowcroft Hospice with this pilot scheme, and we believe that the YOUCAN service will be hugely valuable to the residents of South Devon and Torbay. Sherwoods is an accredited business with over 50 years' experience in facilities maintenance including refurbishment and conversion. We have a directly employed multi-skilled team of talented people, so we're an ideal partner to support this service and we're very excited to be part of it."

Raising funds for the hospice
As a charity reliant on the local community to fund 75% of its care, Rowcroft supports more than 2000 patients with life-limiting illnesses across South Devon each year. With the rising cost of living negatively impacting the hospice's donations from the public, it is hoped that the YOUCAN initiative will become an important new income stream for the hospice.
Get in touch
If you're interested in taking part in the pilot and/or finding out more then please get in touch via the website at www.youcan.solutions, phone 01803 217432 or email hello@youcan.solutions
Other news articles: