A wonderful royal visit
Today, a team from the hospice were invited to be part of an official royal visit to Torquay where they, along with other local organisations, met Their Royal Highnesses, The Prince of Wales and The Duchess of Cornwall.
Rowcroft's Chair of Trustees, Sally Scott-Bryant said: "It was a privilege to be part of last week's momentous royal visit. I am grateful that the Prince of Wales and Duchess of Cornwall took the time to speak to everyone representing the hospice, especially those from our clinical and volunteer teams. It was a very special moment.
Our 40th anniversary year has been a wonderful opportunity to recognise the outstanding personal contribution that each and every one of our people, both past and present, have made to the hospice. This royal visit will certainly be one of the highlights of our special year."
In attendance at the event was a small team of staff and volunteers from the hospice including, Mark Hawkins, Chief Executive. He said: "It was a real honour to be part of today's event. With this year marking the hospice's 40th anniversary, we were delighted to be able to celebrate the wonderful care that we've provided to the South Devon community over four decades.
"It was a fantastic opportunity for some of the hospice team to meet the Prince of Wales and the Duchess of Cornwall and also an opportunity to for us to mention our exciting plans for the future."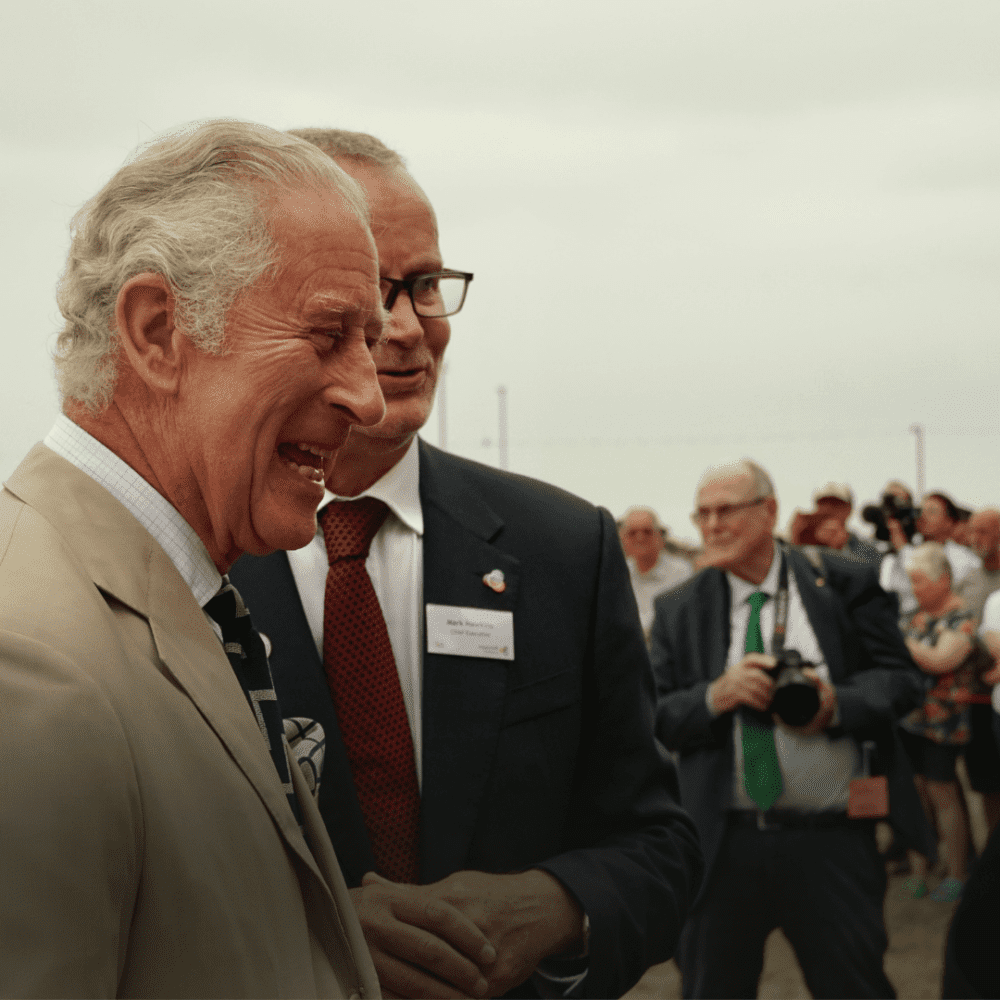 Enhancing and extending our care
At the heart of the hospice's ambition to enhance and extend its care is a remodelling of the Inpatient Unit, which will see the number of beds increase from 12 to 14. The designs are based on creating an environment that reflects a family home, while giving patients and their families even greater independence, privacy and choice during those precious moments together.
The development of the hospice site also includes plans to support the ageing population of Torbay. A 60-bed, purpose-built specialist dementia and complex nursing home will enable Rowcroft to meet the wider care needs of the community, as well as provide a valuable income stream to support the hospice's future care. The project also includes the development of elderly living accommodation and community facilities such as allotments, a village hall and a nursery. Creating opportunities for recreational activities and providing intergenerational connections are at the forefront of the proposal.
Enhancing our natural environment
Throughout the plans Rowcroft has ensured that it enhances its wonderful grounds even further, incorporating new formal gardens, a private IPU garden, three new gardens for the nursing home, dementia gardens and allotments.
Their Royal Highnesses were treated to a beautiful display of scented country garden flowers kindly designed by independent, local family-run flower farm, Amelia's Flower Farm.
Director of Care and Strategy at the hospice, Gill Horne said. "Specially designed gardens and courtyards are a real focus of our plans for the future. We know how important the tranquil nature of the grounds are to patients and families. It was wonderful to be able to share our vision and these plans with The Prince of Wales and The Duchess of Cornwall today.
The hospice is such an important and cherished part of our local community. Our dedicated teams support so many people through the toughest of times, so we were extremely proud to be part of the royal visit."
A gift of flowers for the Duchess of Cornwall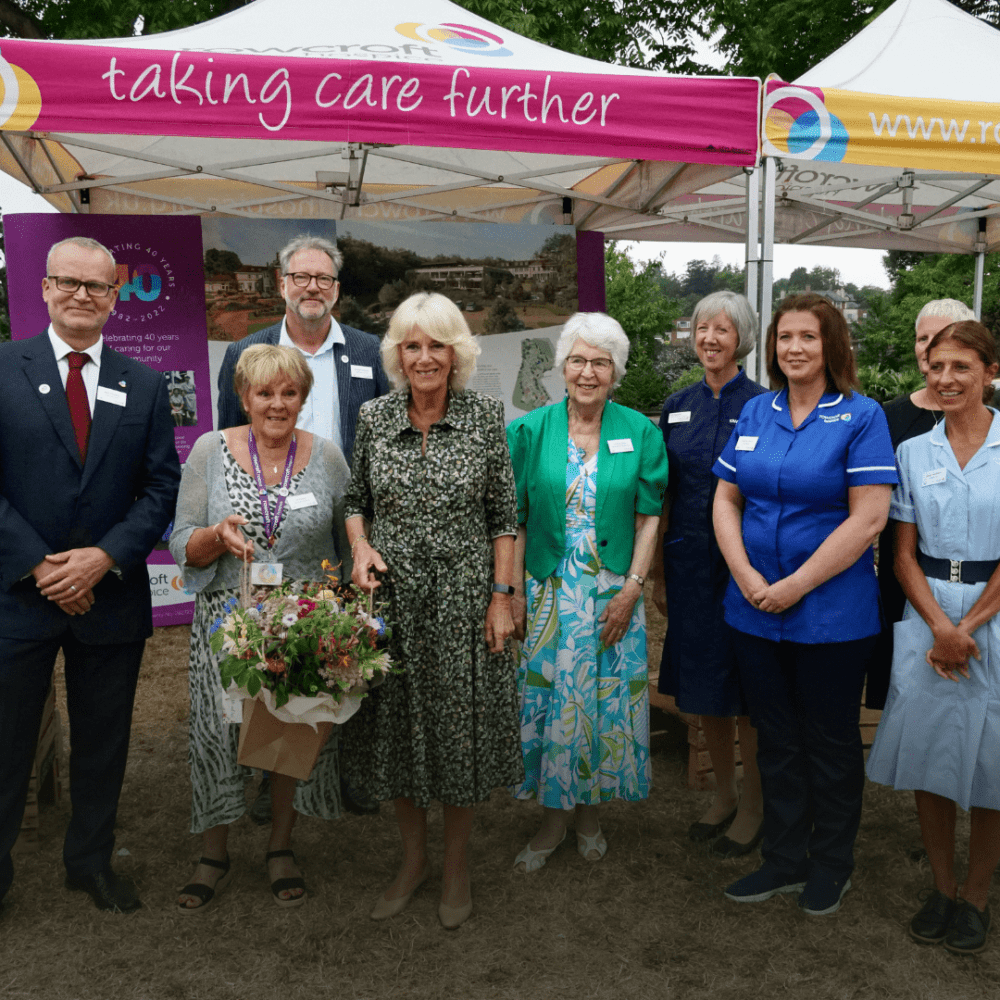 Her Royal Highness, The Duchess of Cornwall was presented with a beautiful homegrown bouquet of flowers from local flower farmer & floral designer Bumble and Iris as a gift for her recent 75th birthday. Di Feasby, volunteer gardener at Rowcroft said:
"My husband Steve was cared for by the hospice in 2017. Rowcroft showed us how to live each day and make every day a good day. Nothing was ever too much trouble and every member of staff went above and beyond for us.
I am so grateful for the care and support Rowcroft gave us and I have volunteered with them ever since. Today was very special and it was an honour to be able to present The Duchess of Cornwall with this beautiful birthday bouquet."
Judith Jones, a hospice volunteer for 40 years, was thrilled to meet the Royal Highnesses. "I've been involved in the hospice since 1982 and so proud to be part of the team 40 years on. It was fantastic to see the royal couple in Torquay and I was so pleased to be a part of this special day. Volunteers play such a huge part in the day-to-day life of the hospice so it was a privilege to represent all those who give their time so freely."
Also present at the royal visit were members of the HM Coastguard service who are celebrating their 200 year anniversary as well as local community group Save Our Seagrass Project which is working with partners to survey and monitor the seagrass meadows along Torbay's coastline.
Other features from the hospice