Santa welcomes you to our Grotto!
Thank you so much to all of you who have booked our Santa's Grotto at Marldon Christmas Tree Farm this festive season.
Our Santa's Grotto is now fully booked. However, we can accommodate walk-in visits, with an approximate wait time of 30 minutes.
If you would like to visit our Grotto but have not booked, do come along and see our elves at the grotto, and we will do our best to fit you in to see Santa.
Have yourself a merry little Christmas at Marldon Christmas Tree Farm by bringing your children or grandchildren along to our snow-covered Santa's Grotto. In this magical experience, children will have the chance to meet Santa and the elves, receive a special festive gift and meet a real reindeer!
Staffed by hospice volunteers, the grotto in Totnes Road, Marldon will be open Friday afternoons, Saturdays and Sundays from 1 – 17 December, and all day every day between 18 to 23 December. With tickets priced at £16 per child, all proceeds will go to the hospice to care for patients living with life-limiting illnesses across South Devon.
A magical adventure
Hannah Palmer from Newton Abbot visited the grotto with her three young children last December, and they are planning to visit again this year. Hannah said:
"The Marldon grotto was such a wonderful and memorable experience for all our children aged one to ten! The grotto was decorated beautifully, the elves were friendly and kept the children entertained whilst queuing, along with the lovely reindeer! Santa took the time to talk to each of our children and there was plenty of time for photo opportunities. Rowcroft is a cause close to our hearts so it was lovely to know that our visit would make a small difference especially at Christmas."
Every single ticket purchased really makes such a difference. The proceeds from one ticket could pay for a marvellous Christmas lunch with all the trimmings for three patients in Rowcroft's Inpatient Unit. Or if you purchase two tickets, this will go such a long way to providing an hour of care for a patient at home in their last two weeks of life.
Supporting local families
If you purchase a ticket for the grotto, you'll be supporting people like James Waring, who was cared for by the hospice after being diagnosed with a brain tumour at the age of 38, just three weeks after getting married.
"Rowcroft was always on the end of the phone when things felt a bit frightening," says James' wife Janie. "And a team of absolute angels would descend when I just couldn't manage on my own. Always happy and smiling and putting everyone at ease, bringing light into the house.
"No one can ever prepare you for such difficult times, but when things got tough, Rowcroft was there for us all. I'm forever grateful for all that Rowcroft do."
Marldon Christmas Tree Farm
With special thanks to Marldon Christmas Tree Farm for their support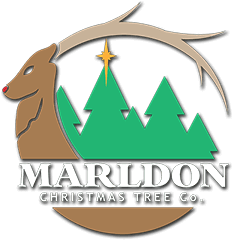 "Here at Santa's Grotto you can create a magical memory that will last a lifetime with your family, and together we can make a real difference for our community," said a representative of Marldon Christmas Tree Farm. "As all the proceeds in their entirety go to Rowcroft Hospice, every booking goes a long way to help a fantastic cause. We strongly believe in pushing the 'true' meaning of Christmas, which to us, is giving back."