Chad's journey with a brain tumour
In summer 2020, 17-year-old Chad Nelson had his life all mapped out – he had a career all lined up and he was learning to drive. But by the end of August that year, his whole world came crashing down when he was diagnosed with a rare brain tumour. Since then he's been through five rounds of surgery and experienced all kinds of challenges including short term memory loss. Chad now dedicates his life to caring for others in Torbay, and is supporting Rowcroft Hospice by volunteering in Ella's Mobile Café. He has inspired the nation through the BBC's One Show, where earlier this year he received the One Big Thank you for his incredible contribution to the community.
Making the best of it
"The last few years have been a rough ride," says Chad. "I had a career all lined up with the Navy's Royal Fleet Auxiliary. But then I started getting migraine-type headaches and blurry vision. I went straight to Torbay Hospital and I later found out I had a brain tumour. It was a mad and life-changing time and the tumour stopped me in my tracks."
A life dedicated to volunteering
"Since being diagnosed, I aimed to do as much as I could and to make the best of my days. I needed to find something that would give me a reason to get up each morning, something that would keep me busy and bring fulfilment. I had studied catering and hospitality at college so it seemed like a natural progression to move into this area working in hospitality for Rowcroft; I was also looking for something that would be people-facing as I like talking to people.
"My whole week is now geared around volunteering and raising funds for charities. It gives me a warm fuzzy feeling doing this worthwhile work. No-one can hold me down! It's a massive part of my life now and it keeps me really happy."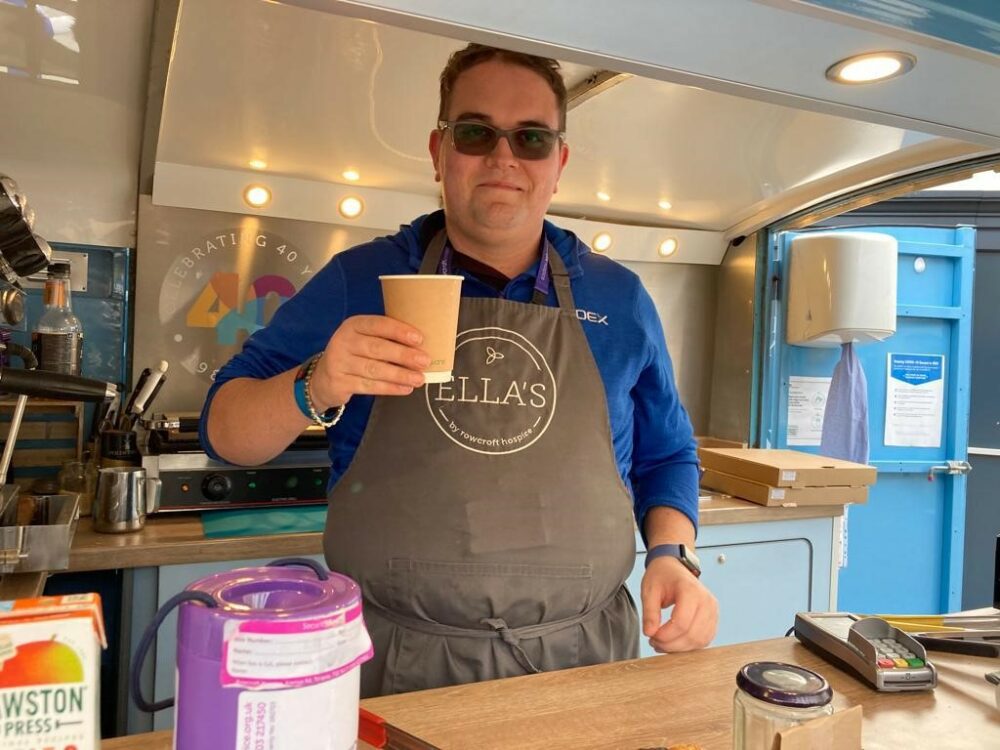 Making a difference
"I absolutely love volunteering for Rowcroft. I'm a people person, so it's great that I get to meet lots of interesting people and chat to them face-to-face in my role at the mobile café. The volunteering is all about making a difference. That's what I aim to do every day – make a positive difference to people's lives.
"In my role at the van, I'm mainly working on the till, and I also make the teas and coffees and I help with washing up. I love that customers remember me when they come back."
The challenges of living with a brain tumour
"Since being diagnosed, I've definitely found out who my friends are! Living with a brain tumour can sometimes be quite isolating and it can be hard to make new friends at times. Also, it can be frustrating because I'm often limited in what I can do, and I can't do the things that I'd like to, such as sailing, running or going on fairground rides.  But I've learnt to make the best of what I can do, and do as much as I can to help others, and I've got big plans for more charity fundraising ahead!"
The BBC's One Big Thank You
"The One Big Thank You from the BBC was a complete surprise. I couldn't believe it; so many people said so many nice things about me! And it was a dream come true to meet Countryfile presenter Adam Henson as I've always been a massive fan of his!"
More blogs about volunteering with Rowcroft