Connection is a central theme in spiritual wellbeing and comes in many forms. Sometimes, it's the smallest gestures that have the biggest impact in moments of need. At Rowcroft's Inpatient Unit, we've seen the power of connection through our 'comfort hearts' – small, palm-sized, knitted hearts created with love and care by volunteers which have been treasured by many of our patients and loved ones.
In this blog, Rowcroft's Spiritual Care Specialist Katie Evans highlights the impact that these comfort hearts have had on our patients and how you can help create special memories with your knitted heart donations.
A heartfelt response
Last autumn, we invited individuals to help us create some knitted hearts which were gifted as cherished keepsakes, providing families with a way to express love without needing words and to feel connected even when physically separated.
The response from the community was nothing short of incredible, and this year, we're looking for more volunteers to rally together and create knitted hearts for us to give to our patients and their families.
Testimonials of love and comfort
One family shared: "We as a family each have one of these knitted hearts which my mum was holding in her final hours. It's such a lovely thing to do and brings me some sort of comfort."
In moments of loss and grief, these small hearts provide a tangible source of solace.
Another family expressed: "A nurse gave us some of these… It was a simple gesture that has meant a lot to us as a grieving family."
It's a testament to the profound impact that even the simplest acts of kindness can have during challenging times.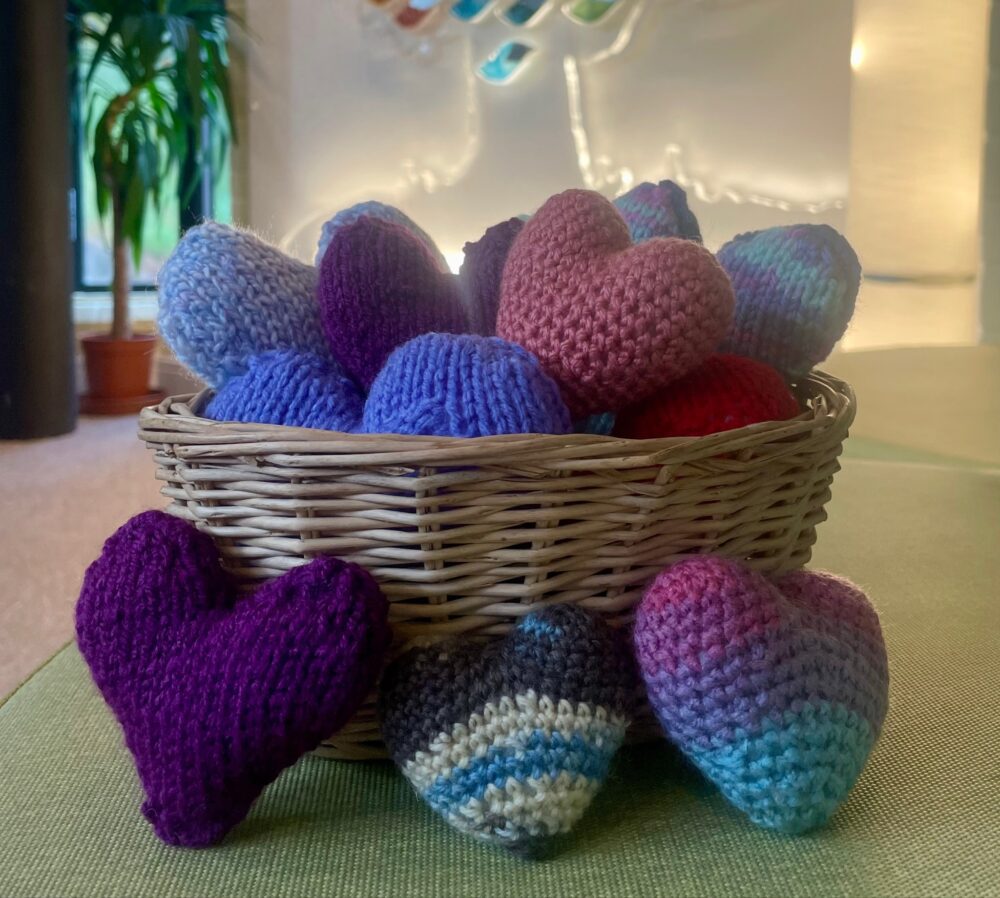 Wendy's story: a testimony to connection
Before she passed away in 2022, our hospice patient Wendy discovered a way to communicate some important personal messages to her grandchildren (aged five and three) enabling her love to live on in her grandchildren's future lives. With Rowcroft's support and through 'memory cards' and pairs of knitted hearts, Wendy expressed her love for her grandchildren while also conveying some poignant and inspirational life messages, so that her voice would continue to guide them into the future. Read more about Wendy's story here.
How to donate your knitted hearts
If you'd like to make some knitted hearts for us, you can follow our knitting pattern here.
You can drop them in to our Inpatient Unit Reception, Rowcroft Hospice, Ella's Gardens, Avenue Road, Torquay, TQ2 5LS.
Alternatively, please post your knitted hearts to Katie Evans, Spiritual Care Specialist, Rowcroft Hospice, Ella's Gardens, Avenue Road, Torquay, TQ2 5LS.
More blogs from Rowcroft