As Pride Month comes to an end, we're celebrating LGBTQ+ communities in South Devon and all around the world. Here at Rowcroft, we understand the importance of coming together and expanding our knowledge of LGBTQ+ subjects, sexual orientation, and gender identity, no matter what month of the year it is. Doing so ensures we continue to provide the best quality of care and enables our patients and their loved ones to feel safe and supported.
Creating a welcoming and safe space for all
We're aware that some LGBTQ+ people avoid accessing palliative and end-of life care services due to fear of discrimination caused by previous experiences of prejudice and abuse. Though Rowcroft provides inclusive expert care for everyone, some LGBTQ+ people may be unaware of this. They may worry that the care they and their partners receive might be negatively affected if staff find out about their identity, and couples might feel unable to show each other affection in front of staff. In addition, some people hold a mistaken belief that the hospice is a religious organisation and they fear they won't be welcome. Rowcroft is working to enhance our care for LGBTQ+ patients and their loved ones by debunking hospice myths, improving awareness, communication and knowledge, and supporting colleagues to provide a safe, welcoming and caring space for all.
Improving care for LGBTQ+ patients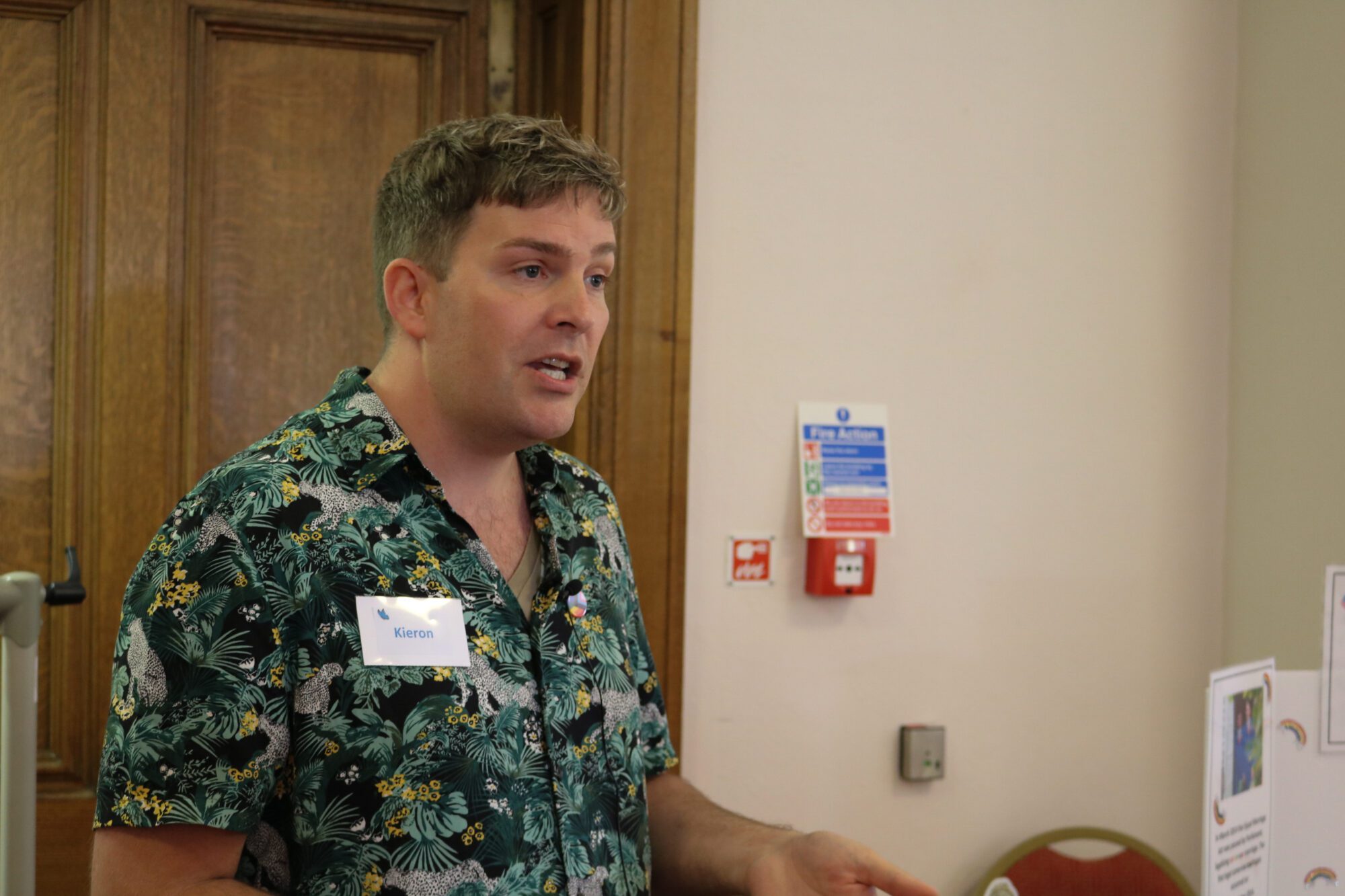 As part of our ambassadors programme here at Rowcroft, Healthcare Assistant and End-of-life Care Ambassador Kieron George completed a work-based project, where he created a LGBTQ+ specific resource folder for our staff and volunteers here at the Inpatient Unit, and within our Hospice at Home and Community Teams to ensure that all of our patients and their loved ones feel safe and welcomed under our care.
Keiron said: "My project was based around improving end-of-life care for LGBTQ+ patients. It involved creating a resource folder for staff members and volunteers to refer to. In it, there's information about what the letters mean in the acronym, how people identify, and educating people around pronouns. There's also some resources in there about LGBTQ+ specific bereavement referral information.
"As part of my project, I've also been proactive in influencing our staff to wear the rainbow flag on their lanyard. For me as a gay man, when I see the rainbow flag, I automatically feel safe and accepted and I feel that patients should have that same opportunity."
More blog posts from Rowcroft: