How Robert was cared for by Rowcroft
After a difficult journey with cancer, Robert Stephenson spent his last few weeks at his home in Torquay being supported, comforted and cared for by Rowcroft's dedicated nurses and care teams. His whole family was touched by the team's unending compassion and kindness and very quickly "the nurses became part of the family". After Robert's passing, his family business The Coffee Company went on to raise more than £4,000 for the hospice through the unique Straight Up range of coffee that's dedicated to loved ones and to Rowcroft. Here Robert's son, Matthew, explains how Straight Up coffee was born and why Rowcroft is their charity of choice.
The Coffee Company
"In September 1994, my mum and dad (Sheila and Robert) set up 'The Coffee Company', aiming to bring speciality coffee and equipment to all types of businesses throughout the South West and beyond. The company began in the spare room at the family home in Torquay with coffee boxes stacked in the hallway and a make-do desk for Dad in the kitchen. As the business continued to grow, myself and my brother Richard joined the company bringing knowledge and experience in engineering, sales and customer service.
Rowcroft's support
"In March 2016, the company was shaken when Dad was diagnosed with cancer; and devastatingly, he passed away in November of the same year. Rowcroft Hospice supported our family through the difficult time and made each day the best it could have been. We were comforted to know that Dad was given the best care in his home by this charity and its amazing staff. The nurses became part of the family and are still spoken about with fondness and affection by us all to this very day. We simply cannot praise them enough.
"Dad was a huge supporter of Rowcroft, and he was passionate about my brother and I continuing with his vision to keep our family business heading in the direction that he wished. So in 2018, we teamed up with Rowcroft and created a range of expresso coffee beans under the 'Straight Up' label. This range consists of 'Frank's Roast', 'Aggie's Blend' and 'No. 18'… all three coffee names have personal meaning to both Mum and Dad.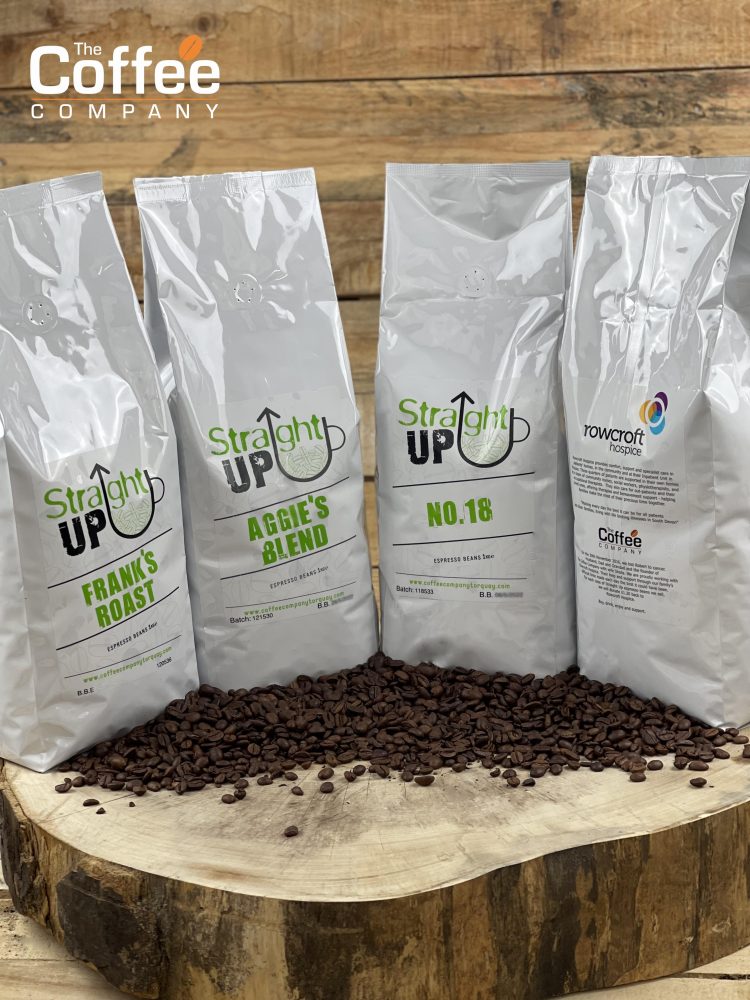 The Straight Up coffee range
How Straight Up coffee supports the hospice
"For every case of Straight Up coffee beans sold, we pay a donation back to the hospice, and thanks to our amazing customers who sell this coffee, money continues to be donated monthly to Rowcroft. Time and time again we are told that our customers relate to our family story, and they love that they're supporting Rowcroft Hospice through their purchases of our coffee. So as Rowcroft Hospice celebrates its 40th anniversary this year, we feel it's the perfect time to BUY, DRINK, ENJOY AND SUPPORT."
Straight Up coffee can be found in many different outlets throughout the South West. For further information, please visit The Coffee Company.
Read how Rowcroft supports families across South Devon: