A night of fabulous fun and fancy dress!
More than 500 walkers took part in Rowcroft's Sleep Walk on Saturday 2 July to raise vital funds for the hospice. With this year's theme of 'Saturday night at the movies', the event saw participants parading film-star fancy dress costumes with legends such as Spiderman, Alice in Wonderland, Audrey Hepburn and Stormtroopers joining the party!
A walk with real meaning
Starting and finishing at Torbay Leisure Centre, walkers selected either a five or ten-mile route around Paignton and Torquay. Many walked in  memory of loved ones. While in previous Sleep Walks, the event has only been open to women and girls, this year and in celebration of Rowcroft's 40th anniversary, the event was open to everyone for the first time.
From the world of Jurassic Park
Olly Stokes, 33, of Totnes dressed up as Dr Alan Grant from Jurassic Park. He said:
"I'm doing the Sleep Walk in memory of my gran who passed away last year. Rowcroft was fundamental in her end-of-life care and they did an amazing job, so we wanted to raise some money for this fantastic charity. While my mum does this event every year, this is the first time that Rowcroft has let men take part so I wanted to join in this fun event."
Top Gun stars take to the streets
A group of six young people from Paignton Amateur Rowing Club dressed up as Top Gun stars to take on the walking challenge. Freya Martin, 14, said:
"I'm doing the Sleep Walk in memory of my mum who passed away in 2016. The support Rowcroft gave to us was amazing; they helped me and my family so much."
Five miles in memory of loved ones
Kate Cassidy, 37, and her two daughters Faye, 12, and Bella, 9, from Torquay walked five miles for Rowcroft with Kate's friend Nicola Ledger, 38, also from Torquay. Kate said:
"I'm walking in memory of my mum, and Nicola's walking in memory of her uncle. We think Rowcroft are amazing. I work at Torbay Hospital taking patients to Rowcroft and I know that they provide exceptional quality care that's on a whole different level, so we wanted to support the hospice through this event."
The Riviera Redhatters
Torquay's Nicola Baker, 78, and Jenny Haycock, 74, from the Riviera Redhatters' friendship group, also took part in the event. Jenny said:
"We like to support Rowcroft as we both know people who've been cared for by the hospice. Rowcroft does such a fantastic job and we know how difficult it is to raise money at the moment."
A huge thank you to all
"We'd like to say a massive thank you to everyone who took part in this year's Sleep Walk," said Alexia Croft, Rowcroft's Events Manager. "It was awesome to see everyone joining in the fun and having such an amazing time, and their costumes were out of this world!"
Raising funds for the hospice
"We're thrilled to have raised £40,00 for the hospice – a fantastic achievement especially given these tough times where the rising cost of living is hitting people hard," said Alexia. "We're so grateful to everyone who dug deep to sponsor our walkers."
Supporting local families
"As a charity, Rowcroft is experiencing an escalating demand for our hospice services across South Devon, and the need for our care has never been greater," said Alexia. "The funds raised through this event will support local families in so many important ways by paying for: 300 bereavement support sessions for grieving relatives, giving crucial emotional and psychological support through the most difficult of times; 400 music therapy sessions, helping to lift patients' spirits, ease anxiety, and enabling them to express thoughts and feelings that are hard to put into words; and 600 complementary therapy sessions – such as massage, relaxation or reflexology – helping patients to relax and easing tension."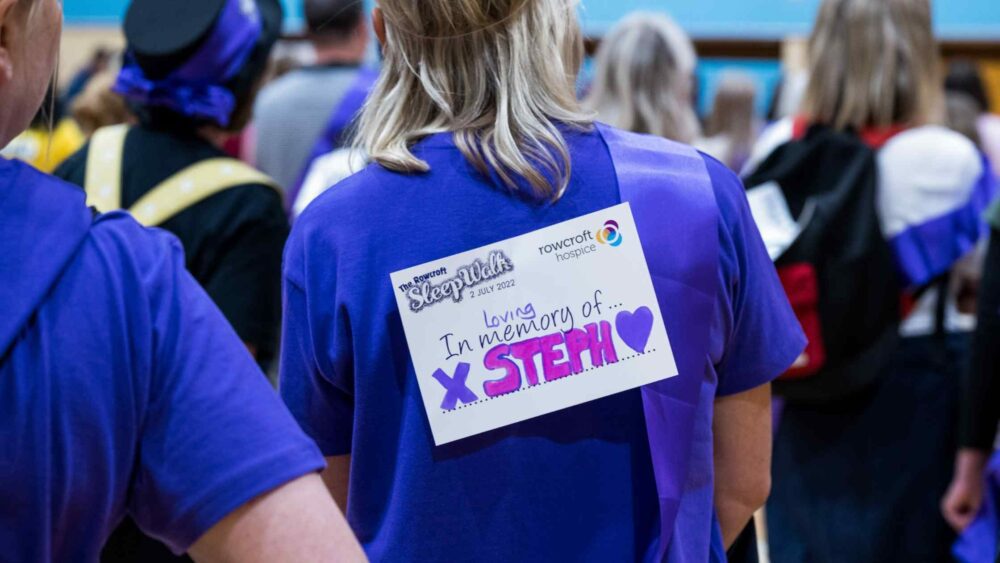 With thanks to Newcross Healthcare
This year's Sleep Walk, sponsored by Newcross Healthcare, was all the more significant as it celebrated Rowcroft's 40 years of caring for the South Devon community since the hospice was established in 1982.
Further ways to support the hospice: