Rowcroft is sprinkling a little festive cheer in Newton Abbot with the launch of our shiny new Christmas pop-up shop in Courtney Street! Secured rent-free and run by shop manager Wil Roberts, the shop's product range comprises entirely new goods featuring all things festive from beautiful gift ideas and stocking fillers through to Christmas cards and seasonal decorations. With the grand opening at 9am on Tuesday 19 October, all of the shop's profits will go to Rowcroft, funding specialist care and support to local patients and families in the community.
"As a charity operating in this challenging retail environment, we're radiating a little Christmas sparkle to raise vital funds to care for our local patients and families," said Caroline Wannell, Rowcroft Hospice's Head of Retail. "For this exciting pop-up shop, the entire product range is comprised of an enticing selection of new goods that are just perfect for Christmas – we have gifts galore and all things Christmassy to suit everyone's tastes and budgets. We're also offering an inspiring selection of Christmas cards featuring some beautiful local scenes. Shopping with Rowcroft is a great way to ensure that your Christmas purchases benefit your local community, so please do come along to browse our fantastic festive range and to support your local hospice. What better way to put something back into your community at Christmas-time?!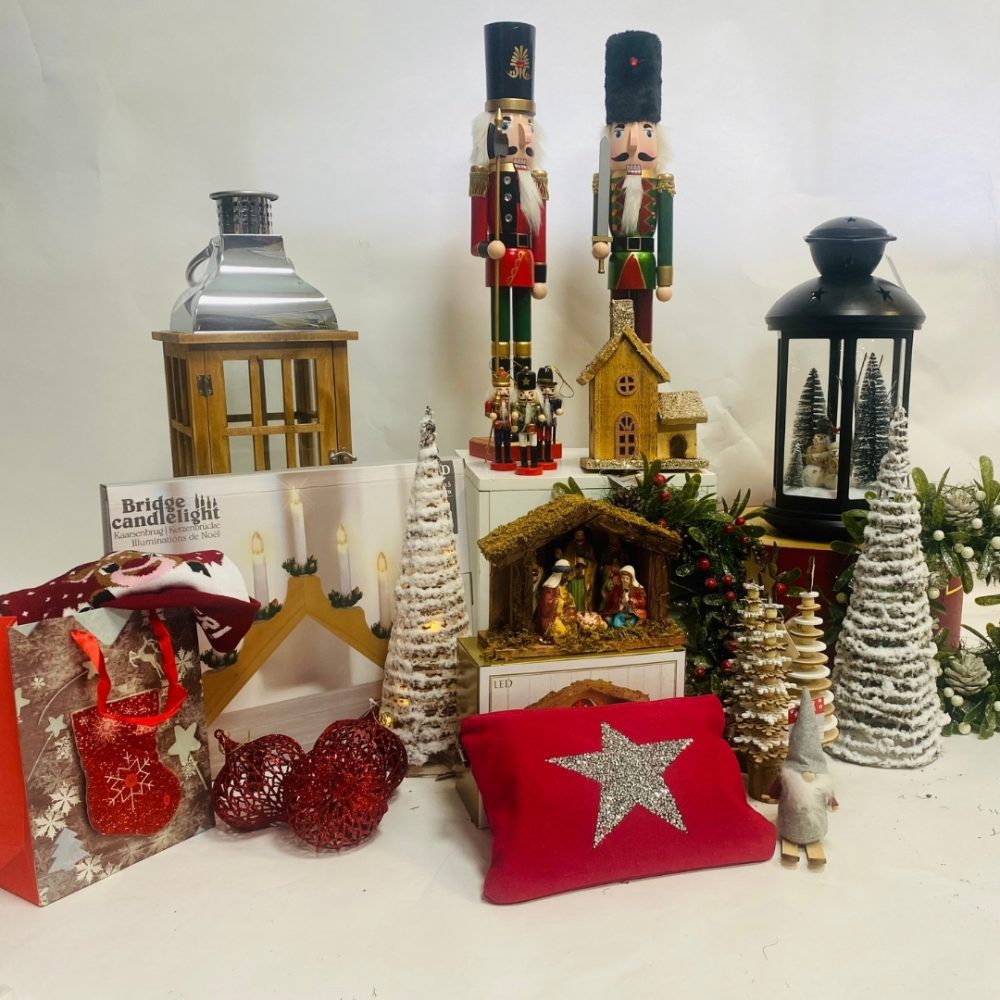 "Our pop-up shop selling new goods is the first of its kind for us as a charity and it perfectly complements our other 15 high street and community shops that sell predominantly pre-loved goods. In our much-loved Emporium shop you can find an eclectic mix of vintage, retro and modern goods including quirky finds and 'last chance to buys' at bargain prices, so please pop along for some amazing offers including gorgeous pre-loved clothing and accessories such as jewellery, hats, bags and scarves, plus homeware, toys, and books!"
We also sell a range of goods in our online shops at Depop, Etsy, eBay and Vinted – all of which can be found on our shops page here.
If you're not sure what to buy, then we're offering gift vouchers in a choice of denominations. Redeemable online or at any of Rowcroft's shops or cafes across South Devon, the gift vouchers make great Christmas presents for a loved one, enabling them to treat themselves to gorgeous clothing, accessories, homeware, furniture and much, much more, or to indulge in coffee and cake or a delicious lunch in Rowcroft's cafes in Chelston, Churston or at Ella's Mobile Café that's currently located at Torquay Harbour.
"As a charity, we rely heavily on the incredible generosity of our wonderful local community who support us in so many different ways, whether that's through donations, making gifts in Wills, playing our Lottery, supporting our online events, shopping in our retail outlets, or through volunteering," said Caroline.
"We're always on the lookout for more volunteers to help in our shops and cafes, and particularly through this difficult period when lots of people are self-isolating and when even the largest chains are struggling to recruit staff. If you're interested in lending a hand through volunteering, then please do pop into any of our stores to chat to our shop managers."
The money raised through Rowcroft's retail operation and fundraising is used to care for more than 2000 families each year across South Devon. Offering specialist care for people with life-limiting illnesses, our central philosophy is to put patients' choices at the centre of our care. Rowcroft cares for over 80% of our patients in their own homes as per their wishes, and we also have an Inpatient Unit in Torquay. Rowcroft's care has been rated as 'outstanding' (the highest possible rating) by the Care Quality Commission.
For further details about Rowcroft's shops, please see our shops page here or call 01803 210800.