A chance to "walk and talk"
On Saturday 18 March, Rob Burkitt (36) from Torquay will be lacing up his boots once again to take part in Rowcroft Hospice's eight-mile walk – The Big Tackle (previously known as The Male Trail) – in memory of his late father. He and some of his friends joined the Torbay walk last year to raise over £1000 for the hospice while remembering loved ones lost and celebrating their lives, and they are planning to do it again.
Making strides for the hospice
"My dad was cared for by Rowcroft's Hospice at Home team before he passed away in December 2021, so the walk seemed like a good thing to do to support the hospice," said Rob. "It was a fitting tribute to my dad, and it also gave us men the chance to talk about our loved ones. It was a long old walk so we had lots of opportunities to strike up conversation! It's 100% true that men don't talk enough about their feelings, but I'm very lucky because I can chat about absolutely everything with my mates. During the last walk, we talked through the whole eight miles and we had lots of meaningful conversations."
Reaching out for support
"Men definitely find it hard to express their emotions," said Rob. "Soon after my dad died, I went through a difficult time and I needed to reach out for support. It really did help to have someone to talk to, to share my thoughts and feelings that were all bottled up."
Tackling issues around grief and bereavement
Starting and finishing at Torquay Rugby Club, Rowcroft's walking challenge The Big Tackle aims to raise awareness about the need to tackle issues around grief and bereavement that affect us all. The funds generated from the event will help people across South Devon to access crucial emotional support after losing a loved one, as well as funding expert end-of-life care to people facing the hardest days imaginable.
Raising funds to support local people
"Taking part in The Big Tackle is a fantastic way to raise vital funds to support people who are grieving, and offers a unique opportunity for everyone, particularly men, to come together to 'walk and talk' and remember loved ones lost," says Nick Coffey, one of Rowcroft's bereavement support volunteers. "The event reinforces that it is good to talk, and highlights the importance of seeking support if you need it. This is especially pertinent to men who often seem to have an instinct for coping and putting on a brave face, and they are very good at denying grief and avoiding the grieving process. For example, we tend to throw ourselves into other activities such as work, rather than talking about our feelings. In general, we're uncomfortable showing our emotions and unfortunately we often feel that it's a sign of weakness to ask for help, whereas nothing could be further from the truth."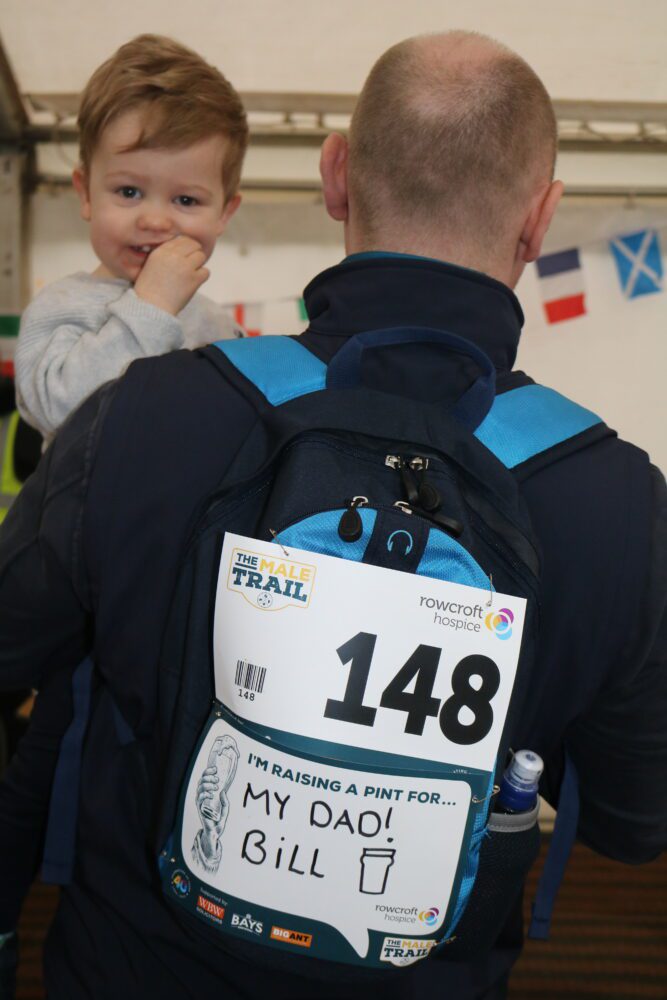 About The Big Tackle
The Big Tackle event is open to all and includes a free pint and a pasty at the Torquay Rugby Club along with the chance to watch the Six Nations match between England and Ireland.
It costs just £28 to sign up (£20 for under 18s) and Rowcroft asks participants to either raise or donate a minimum of £20 to support the hospice. To sign up and for further information, please go to: www.thebigtackle.org.uk.
Making a difference
Money raised from the event will be used to fund Rowcroft's specialist care and support to patients and their families living with life-limiting illnesses. This includes bereavement support for families and carers following the death of a loved one who was cared for by the hospice. The charity offers one-to-one support, group meetings and individual counselling sessions.
Rowcroft's services are provided to free of charge to adults across South Devon – from Dartmouth to Dawlish and up onto Dartmoor. Each year the charity cares for over 2,000 patients and their loved ones, helping people to make every day the best day possible and enabling families to share precious moments together.
More news from Rowcroft