Send a photo of a loved one to be displayed in our photo exhibition
Rowcroft Hospice is marking the National Day of Reflection on 23 March by inviting people to send in a photo of a loved one to be displayed in the 40 Years of Care photo exhibition in May.
"Looking through old photographs is a wonderful way of remembering a special person who is greatly missed and deeply loved, and this couldn't be more apt on this National Day of Reflection," said Rebecca Cogger, Rowcroft's In-Memory Giving and Legacy Manager. "This day presents a unique opportunity to reflect on the loss we've experienced, to show support for all the people who are grieving, and to remember and celebrate the lives of the people we've lost."
The National Day of Reflection has gained support from local and national care organisations, charities, businesses and community groups, and marks the second anniversary of the UK going into the first national lockdown. It recognises the millions of people who have been bereaved since the pandemic began, many of whom didn't have the chance to say goodbye to loved ones and had to cope with grief alone.
Rowcroft's In-Memory Giving and Legacy Manager, Rebecca Cogger, explains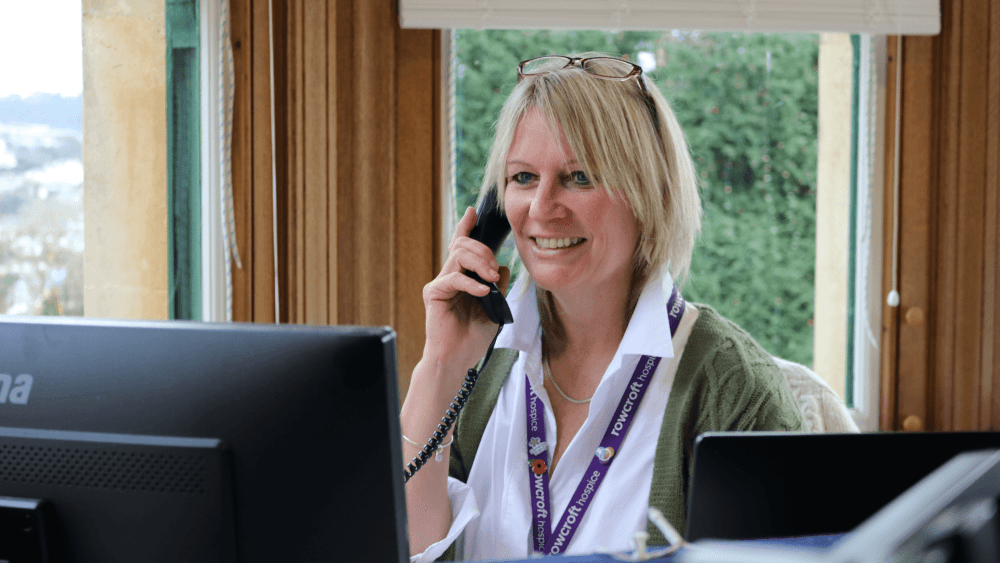 "This is an important moment to connect with our local communities," said Rebecca. "A time to reflect on all that we've been through, and to remember all the people who've died during this pandemic, in our own circles – our family members, friends, neighbours and colleagues – and in wider circles across the UK and around the world. Here at the hospice, our thoughts and love are with everyone who has been bereaved.
"While we understand the challenges that the pandemic has posed, we also recognise the importance of celebrating and honouring the people we've lost over the years. Our 40th anniversary photo exhibition – 40 Years of Care – will do just that by celebrating the lives of the tens of thousands of people who have been cared for by the hospice since we first opened in 1982. We warmly invite people to send in a photo of their loved one for this magnificent display.
"It's so simple to be a part of this celebration. Just send us a photograph of your loved one along with their name, and we'll include the photo in our exhibition. We'll also enter the name of your loved one into our online Book of Remembrance that will be available on our website. We'd love you to come along to the exhibition and I'll be on hand during the week to welcome you and to update you with news of the hospice."
Sponsored by Stockman & Loram The Family Run Funeral Service and Express Stairlifts Southwest, the exhibition will be held between 30 April and 8 May 2022, 9am to 5pm, at Rainbow House in the hospice's grounds in Avenue Road, Torquay. Everyone is warmly invited to attend including those without a connection to the hospice. The beautiful gardens will also be open for people to explore and enjoy and there will be guided tours on 30 April and 1, 2, 7 and 8 May between 11am and 4pm for £4 (free for children).
Contributing your photo
To contribute a photo to the exhibition, please send it in before Easter. Email the photo of your loved one and their name to rebecca.cogger@rowcrofthospice.org.uk or post it to Rebecca Cogger at Rowcroft Hospice, Avenue Road, Torquay TQ9 7SP. If posting your image, you are kindly requested to make a duplicate of your photo to retain, as Rowcroft is unable to return photos to their owners.
For further information about Rowcroft's anniversary and the 40 Years of Care photo exhibition, please see our 40th anniversary celebrations, or telephone Rebecca or Jenny on 01803 217642.