Since the launch of Devon Farm Kitchen in April this year, the sales of its 'deliciously satisfying' meals have skyrocketed, smashing the 10,000 mark in November. With every penny of profit going to support Rowcroft Hospice, the meals made with locally sourced produce are proving a huge hit with the community.
"We're delighted with the support that we've received from our community in buying our nutritious, freshly frozen meals that are delivered to people's homes," said Devon Farm Kitchen Manager Joe Bradshaw. "We're rapidly attracting new customers from our delivery areas in Torbay and South Devon, and we're proving that we've got the right recipe: one that's good for our customers, good for the local community and good for the planet. We're also excited to have just launched our delicious Christmas range, which is now available to purchase online."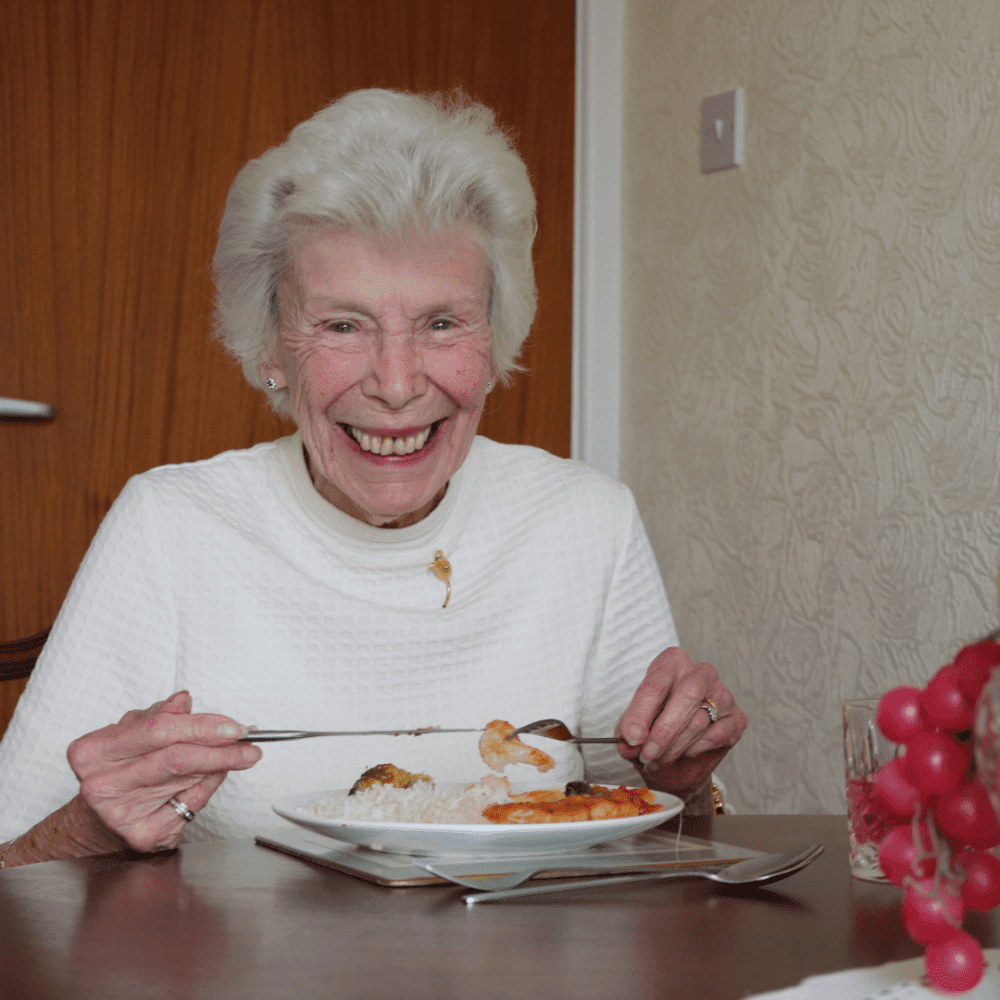 June Secker of Torquay is one of Devon Farm Kitchen's customers. She has been enjoying the handcooked meals every week since April, and is thrilled that all profits go to care for local patients. June said:
"It's just so simple and easy for me! All the meals are delivered straight to my door. From the very first mouthful to the last, the meals are so satisfying. I have the lamb chop and the salmon most weeks, and then I like to try other main courses such as the vegetarian curry that I had today – it was absolutely lovely. The packaging is really clever too – I've never seen anything like it before. The whole box goes in the oven or microwave, and it doesn't burn you – it's ingenious!"
Devon Farm Kitchen prides itself on delivering high quality meals that are lovingly handmade by its very own chefs with nutritional input from local dietitians. Handcrafted using the finest British produce sourced directly from Devon's farmers, fishing communities and other local producers, the Devon Farm Kitchen range includes nutritious soups, starters, main courses and desserts. Its motto is local produce for local people while supporting local care. Top-selling meals include locally sourced roast beef and Yorkshire pudding, lamb loin, sausage and mash, Brixham fish pie and vegetable curry. Popular desserts include orchard apple crumble, jam roly poly, and chocolate and walnut pudding.
The meals come ready to heat on ceramic plates and bowls which are then washed and returned to the driver on the next delivery. There's no plastic involved and the cardboard packaging is 100% carbon neutral, reusable or 100% recyclable and compostable. The driver provides support to customers by happily answering any questions on cooking, storage and delivery.
"It's lovely to see the friendly driver each week," said June Secker. "He comes in smiling and bringing kindness and we have a little chat – it's these personal touches that make such a difference. At around £5.00 for a main course, it's all very reasonable. And I love that Rowcroft is benefitting – because as far as I'm concerned, Rowcroft is the bees' knees!"
Devon Farm Kitchen aims to fulfil an important service for local people, particularly elderly and vulnerable people, who may be unable or uninclined to prepare healthy meals for themselves.
"We're providing a unique service to our community by lovingly crafting nutritious meals that encourage healthy eating, and by generating profits that help sustain the expert care that Rowcroft Hospice provides to patients across the region," said Manager Joe Bradshaw. "I'd like to say a huge thank you to all our customers for supporting us and for helping us to raise essential funds to care for local patients."
All profits from Devon Farm Kitchen go to support Rowcroft in caring for patients with life-limiting illnesses, and their families, across 300 square miles of South Devon.
To find out more about Devon Farm Kitchen or to place an order, please go to www.devonfarmkitchen.co.uk or call 01803 217 477.