Loving sustainable shopping online with Rowcroft
On the first day of Sustainable Fashion Week, we're reminded of the devastating environmental impacts created by the 'fast fashion' industry. Yet we're also encouraged that increasing numbers of people are dumping fast fashion choices and turning to more sustainable options. Here Rowcroft's Online Sales Specialist Nichola Thomas gives an exciting glimpse into the exquisite world of online sustainable fashion at Rowcroft, and explains how you can make a real difference by shopping with us.
What is fast fashion?
"Whereas clothing used to be designed to a high quality to stand the test of time, fast fashion by contrast is of poor quality, sold cheap, worn just a handful of times, and then thrown away," says Nichola. "In many cases customers will buy several sizes to find the one that fits but discard the wrong ones as it is not worth the cost to return them."
Costing the earth
"In the UK alone, each year approx 300,000 tonnes of clothing ends up in household waste, which in turn goes to either landfill or the incinerator, releasing toxic gases that are harmful to our environment. In addition, the fast fashion industry consumes vast quantities of water required for growing cotton, and uses pesticides, harmful chemicals and poisonous dyeing techniques, not to mention huge volumes of oil to make polyester. It's hardly surprising that the clothing industry now accounts for ten percent of global carbon emissions, and is the second largest industrial polluter in the world, second only to oil."
Sustainable choices
"It is for environmental and ethical reasons that people are turning away from fast fashion retailers and seeking more sustainable alternatives. This trend is becoming more and more evident in the UK where at least 20% of people now say they buy second-hand clothing (with this figure set to rise with the ongoing cost of living crisis). The recent collaboration between eBay and Love Island, showed viewers that second hand doesn't mean second best and encouraged some people to make the first steps to make more conscious choices about what they wear and how they buy, also helping to do away with any old-fashioned stigmas around pre-owned clothes.
"This year has also seen a huge increase in searches related to sustainable fashion. Vogue Business recently published that TikTok have seen huge numbers for hashtag searches such as #thrift (7 billion views) and #slowfashion (629 million views) and YouTube shorts with upcycling and thrifting content seeing 350 million views over the past year.
"Personally, I only ever buy second hand or vintage clothing. I love that I can find items that are no longer accessible so I can have a completely original outfit. It also helps that it can be a fraction of the price of traditional high street shopping not to mention I am confident that my choices are the more ethical option."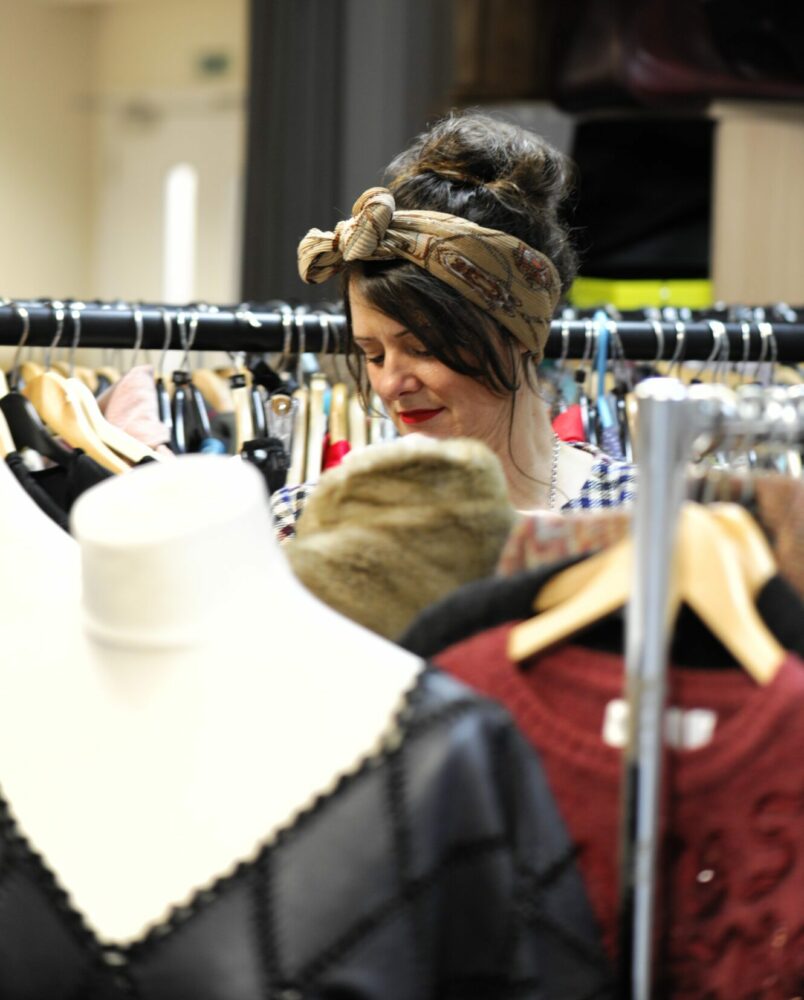 Online shopping with Rowcroft
"Rowcroft's online stores on eBay, Etsy and Vinted offer you a fabulous choice of shopping platforms, all selling a wide range of beautiful sustainable and unique items and offering excellent value for money. Your sustainable shopping purchases will not only help to protect the planet, but you'll also be caring for patients with life-limiting illnesses and their families across South Devon because all profits from your purchases go directly to support the hospice."
Stand out from the crowd
"Our online stores have something for everyone. You can opt to stand out from the crowd by treating yourself to a hand-picked curated true vintage piece. We have previously sold iconic labels such as Laura Ashley, Cresta Couture, Jean Varon, Ossie Clark, Liberty of London, Colin Glascoe, Biba, Diane Freis and Harrods. We also keep up to date with current trends like cottagecore, prairie, peasant and 70s boho."
A veritable treasure trove
"You can also indulge in our sustainable modern clothing with brands such as Boden, Barbour, Levi, Adidas, Seasalt, Nike, Joules and Henri Lloyd. We also have perfect one-off gems for festivals and parties, plus gorgeous workwear, and pieces to suit the trends of 80s/90s, country and street/skate style.
"It is not just clothing that we sell online; don't miss our treasure trove of all things quirky including collectibles, retro finds, stamps, postcards, media, electronics, curiosities, and nostalgic items. We really do have something for everyone!"
Selling in bulk to re-sellers
"We now have a large re-seller customer base. More and more people are looking for ways to make extra income to help with spiralling household costs and re-selling can fit around regular jobs perfectly. Once items are returned to our warehouse by our stores (due to being unsold for a length of time or possibly having an odd flaw), we offer these items for sale in bulk. Sold to re-sellers in 10kg bags, this stock is perfect for eBay, Depop or Vinted sellers. We also sell to many car boot and market traders who sell these items to make extra money. We have regular bags for sale at £7.50 (plus £7.50 postage or free collection) The bags have a wide range of modern men's and ladies clothing and accessories from a wide range of stores/labels. Additionally, we also sell 10kg vintage mixed bags for £20 plus £7.50 postage. We do also have a small Depop store that specialises in re-seller bundles. We are working with Depop to promote this to other Depop sellers who particularly like the chance to buy in bulk and to help a charity while doing so."
Minimising waste
"We really try to maximise every opportunity to reduce clothing waste. Once we have exhausted every option to give clothing another life both in shops and online, the unsaleable items are sold in bulk to rag merchants to be recycled. This also generates vital funds for the hospice plus reduces the amount of clothing going to landfill and polluting the environment."
Lending your support
"We're currently looking for volunteers to help us with our online shops. We need help in listing items, social media, photography and researching, so please do get in touch if you have some spare time to give and would like to support a wonderful cause.
"We would also like to work with any online influencers, especially in the sustainability or vintage area. We are always looking for great images to showcase our items and share on our social media channels. If you're a budding photographer, influencer or model we would LOVE to hear from you."
Donating to our online stores
"We also really welcome and appreciate your donations of good quality clothing, and we're particularly on the lookout for vintage and higher end clothing, or collectibles, media and electronic items. So if you're having a clear-out, please do drop your unwanted items into your local Rowcroft store clearly marked ONLINE DEPT."
Take a look at our online shops: