In this uplifting blog, Rowcroft's senior nurse Claire Redhead shares a moving personal account of what life has been like for care teams on the frontline of the pandemic over the last few months. She provides an inspiring insight into how, despite the challenges, Rowcroft has been continuing to care for patients and families in South Devon, and she explains some of the difficulties that care teams have faced along the way.
Firstly, I'd like to say a massive heartfelt thankyou from all the nurses and care teams here at Rowcroft. We know that the past few months have been incredibly difficult for everyone, yet during this time, we have been so overwhelmed by the kindness and thoughtfulness of our community and supporters. It is because of your generous support that, through this pandemic, we have been able to continue caring for our patients and families. It makes all the difference to know you care: it lifts our spirits, it boosts morale, it keeps us going day after day after day.
It makes all the difference to know you care
Working on the frontline, I could not be prouder of all my nursing colleagues – my "angels" (as one patient's wife described them). Our devoted nurses and care teams have continued to care for patients and families through the darkness of this crisis. Their genuine compassion never waivers; it radiates its warmth to all. For those in our Hospice at Home Team, their courage and resilience have been tested again and again, particularly as soaring numbers of patients shielding at home have led to increased demands and pressures on our service.
It's true to say that when the pandemic first engulfed us, I was really frightened – I was anxious for the health of my friends, my family, my patients, my colleagues and even myself. But as the weeks went by, as our teams learned more about COVID-19 and how to prevent its transmission, and as we installed stringent processes to keep everyone safe, my fear subsided. We adjusted quickly to the 'new normal' and to the new ways of working.
When the pandemic first engulfed us, I was really frightened
Adjusting to the 'new normal' meant embracing personal protective equipment (PPE). This came with its own set of difficulties, particularly because it goes against the grain of some of the things we hold dear in comforting and caring for our patients and families. For example, reassuring a patient by holding their hand just isn't the same when we're wearing latex gloves. And the masks that we're obliged to wear hide our facial expressions and smiles – which usually go such a long way in helping us connect with our patients and families. Facial expressions say so much where words cannot suffice, so we're having to find new ways to communicate.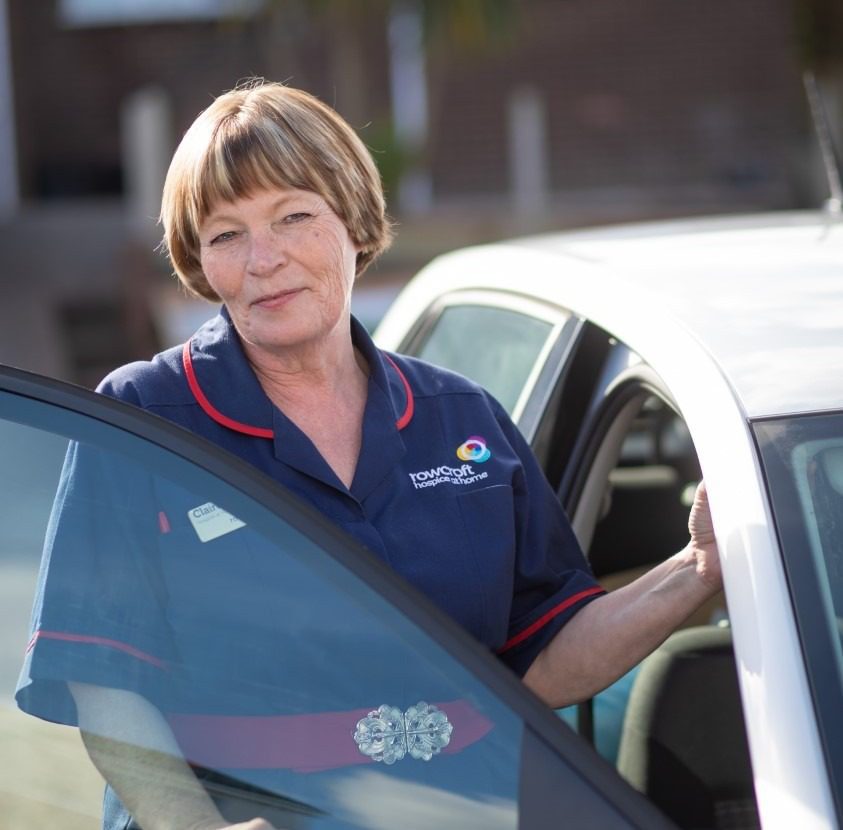 The 'new normal' has also meant getting to grips with technology. For example, some colleagues across the organisation have replaced face-to-face visits with video or telephone consultations where possible; we've held online funeral services if we were unable to gather; and we've helped patients in our Inpatient Unit to use iPads and mobile phones to connect with shielding family members. One patient listened to soothing poetry, read by his wife over the phone, while he peacefully passed away in our Inpatient Unit. Despite the difficult circumstances, we're doing whatever it takes to keep patients and their loved ones united.
In our journey through this pandemic, we've been continuing to provide expert care, including to those with COVID-19, in their own homes and at our Inpatient Unit in Torquay. We put patients' choices at the very centre of their end-of-life care, and we've helped patients to die with the dignity and respect that everyone deserves, reducing tension and stress for loved ones by their side.
We've helped patients to die with the dignity and respect that everyone deserves
For patients wishing to die at home, we've supported them to do so, enabling them to be surrounded by the people, pets, things and the place they love. I can't tell you the sense of peace and contentment this brings; it's so important in making the most of families' last precious moments and in shaping memories for those left behind.
We've been sharply aware of the isolation felt by many COVID-19 patients and their families, so we've set up a telephone helpline service to offer support and a listening ear. This vital service is also available for health and social care workers, to talk about any aspect of coping with COVID-19.
Those who've been bereaved have been hit hardest by the sense of loneliness and isolation caused by the pandemic. One man who had lost his wife of 40 years was left in shock, bereft, confused and completely alone. He had absolutely no-one to talk to, until our Bereavement Team stepped in to give him the support he so desperately needed.
While we have made steady progress, we know that our journey ahead is a challenging one. Due to the pandemic, Rowcroft has suffered a devastating loss of income, caused by the closure of our shops and the cancellation of many of our fundraising events. As a charity, we rely heavily on this income to continue caring for patients and families, so this climate of financial uncertainty is a real concern, especially with a second wave of COVID-19 looming on the horizon.
We know that our journey ahead is a challenging one
I feel that as Rowcroft continues to care for our local community, that care is being reflected back to us. I have been humbled by the incredible outpouring of public appreciation for nurses and care teams on the frontline. And I am forever grateful to be supported by such a wonderful, kind-hearted and caring community here in South Devon, a community that I feel so proud to be a part of. As Rowcroft continues to meet this pandemic head-on, I am strengthened by the warmth and love of our community, and I am inspired to keep on going.
Thank you once again for all your support.
For more information and to view some video messages from our nurses, please see our COVID-19 web page.