Baker Estates has generously sponsored the cost of three new retail vans for Rowcroft Hospice. The donation of three Citroen vans will help Rowcroft's retail enterprise continue to thrive and fund vital care for people living with life-limiting illnesses and their families in South Devon.
The hospice's retail operation plays an invaluable role in funding patient services. Without reliable, roadworthy vehicles the enterprise would not be able to operate to its full potential. The new vans will allow the charity to continue to collect donations from house clearances, white goods and large pieces of furniture, which provide a significant financial contribution to Rowcroft's outstanding care.
The local company made the generous donation after being approached by Rowcroft Corporate Fundraising Ambassador, Jonathan Edgoose.
Ian Baker, Managing Director of Baker Estates said; "Rowcroft is a fantastic and well-known local charity that has been carrying out amazing work in the community for many years. We feel it is hugely important to support the communities in which we work and Baker Estates has a desire to contribute to good causes throughout its area of operation.
"Many of our staff have experience of or know people who have benefited from the wonderful work that Rowcroft provides. Baker Estates staff have previously been involved in The Sleep Walk and will be taking part as a team for this year's event."
Ian continued; "It's a pleasure to be associated with an organisation such as Rowcroft and the vans look terrific!  But most importantly, the vans will do great work in raising funds for Rowcroft for years to come."
Baker Estates is currently building in seven locations throughout the South West, including Malborough near Salcombe, Totnes, Honiton, Callington and Seaton. The new homes developer is one of the leading housebuilders within the South West and has a Home Builders Federation 5-star customer satisfaction rating.
The eye-catching designs used on the vans can also be seen on Rowcroft's new eco friendly carrier bags available in Rowcroft shops. Not only are the vans helping the local hospice operate a profitable area of income generation; they also act as a tool to drive brand awareness.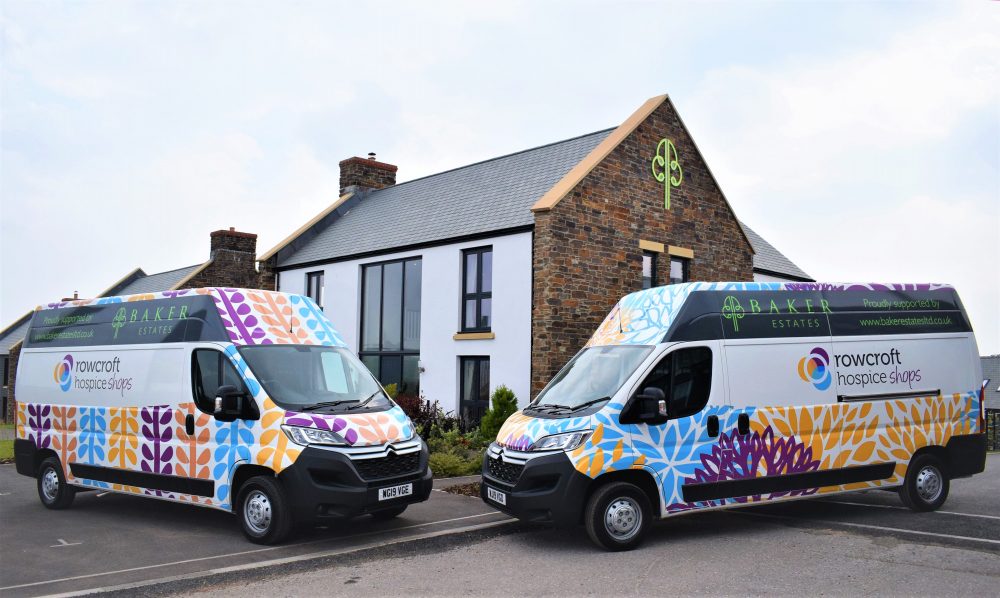 Rowcroft Hospice's Chief Executive, Mark Hawkins, said: "I am delighted that Baker Estates have supported us in buying three new vehicles so that we can continue to collect furniture from homes across South Devon, and ensure our 16 shops are always fully stocked with goods to sell. We are passionate about delivering outstanding care to our community and Baker Estates are passionate about delivering outstanding homes in the communities they know and love, and so the match felt perfect. We could not do what we do without the support of local businesses like Baker Estates." 
If you would like to learn more about Baker Estates and their stunning homes in beautiful locations, please visit www.bakerestatesltd.co.uk for more information.