As COVID cases continue to climb across the South West and Devon, Rowcroft Hospice is experiencing an increasing need for spiritual care due to the challenges of anxiety and separation caused by the pandemic. The charity provides end-of-life care to almost 2,500 local people each year, recognising and incorporating spiritual care as a vital component of its 'whole person' holistic approach to care.
"This pandemic has taught us how important it is to draw upon the things that make us happy – the important things in our lives which bring us comfort and strength, that matter most to us, and that define us as individuals," says Andy Barton, Rowcroft's Spiritual Care Specialist. "Health care workers everywhere have had to increase the spiritual care offered within their roles, to ensure that they can support the individual well-being of their patients, particularly those who are isolated."
Rowcroft's care teams aim to embed spiritual care throughout all the end-of-life care that they provide. Considered equally as vital as the physical and medical aspects of care, spiritual care is about putting patients' personal needs and wishes centre-stage, enabling patients to find peace and contentment by shaping their own end-of-life experiences.
"Spiritual care is crucial as it allows us to understand what matters most to whoever we are caring for," explains Andy. "What matters most can be anything or anyone, for example, family and friends, hobbies, or beliefs or religion. Spiritual care enables patients and their families to draw upon these things to remain grounded and true to themselves during tricky times. These are very personal choices that are totally unique to each individual.
"Supporting patients and families through spiritual care can be achieved in so many different ways. It can be about helping a gentleman in his final days of life to find a way (through writing a letter) to let his nephew know how proud he is of him. Or it can be about connecting a patient (via a mobile phone or iPad) to a loved one who cannot visit them, so that they can share important moments and memories with each other before peacefully passing away in our Inpatient Unit. It is about whatever is important to our patients; it is whatever they can gain comfort from."
Spiritual care already makes a tangible difference at Rowcroft Hospice, but the charity is striving to take it further, particularly at such a critical time through this pandemic. The hospice aims for it to always be shaped by the person being cared for, and delivered with great skill and sensitivity by Rowcroft's people wherever they are at work. By building collaborative partnerships with local faith and belief communities, Rowcroft also aims to strengthen its spiritual care for the diverse population of South Devon.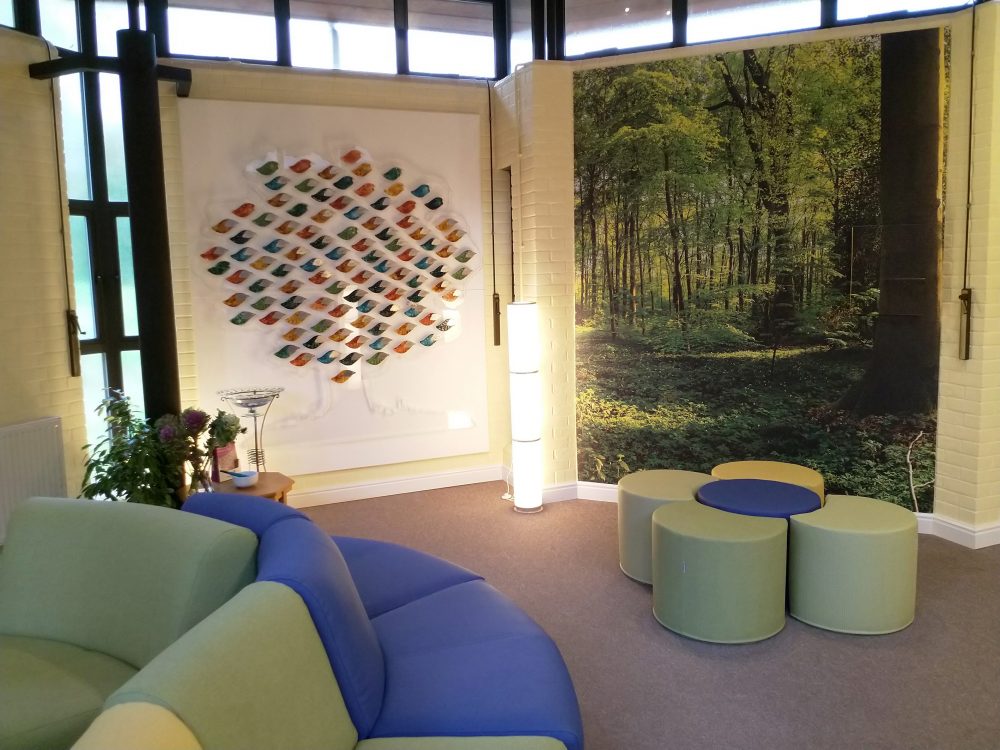 To help patients find quiet time for reflection, Rowcroft has recently re-developed its chapel into a new, inclusive spiritual space for all, one that's also compliant with infection control requirements. Known as 'The Sanctuary', the beautiful new space can be used by all according to their individual needs, for example for rest, reflection or prayer. It is a peaceful, nurturing and welcoming space, used keenly by people of all faiths and none.
"We are so grateful to all of the local businesses that helped us to develop our beautiful sanctuary," says Andy. "In particular, we'd like to thank, Baker Estates, B&Q, Bayside Graphics, Creation Groundworks, Devon Tree Services, Eales and Baker and the Inlight Trust."
If you would like to find out more about Rowcroft Hospice, please see Rowcroft's website at www.rowcrofthospice.org.uk or call the Rowcroft team on 01803 210800. Videos about Rowcroft's spiritual care can be viewed via Rowcroft's wellbeing hub at: www.rowcrofthospice.org.uk/wellbeing-hub