Rowcroft's Executive Assistant Chris Moores is on a mission in his Ride for Rowcroft cycling challenge! Chris is cycling at least 32km per day throughout this month without any rest days, and so far he's been blasted with windy hailstorms and freezing temperatures -despite it being May! By the 31st, he'll have clocked up a whopping 1000km – the distance from Torquay to Inverness! In this inspirational blog, Chris explains why he's embracing this challenge and how it's going.
"I wanted to support Rowcroft through a fundraising event as I'd like to give something back to my community, especially in the current pandemic when demand for Rowcroft's services is so high. And when I found out about Ride for Rowcroft – Your Way, the challenge really appealed. I know this journey will push me to my limits, testing both my physical and mental stamina and echoing the incredible challenges that my healthcare colleagues face every day as they support patients and families in our community.
"Ride for Rowcroft – Your Way is such a brilliant event from a family perspective, as it's perfect for people of all cycling abilities – from beginners through to the more hardcore cycling enthusiasts. It really doesn't matter how far you cycle, and it's not a race. It's about making it your own personal challenge – one that's right for you, whether that's 5km or 500km. It's about taking yourself out of your own comfort zone and stretching yourself and not comparing yourself to others.
"I know that I'm pushing my boundaries by committing to a minimum of 32km every day, particularly because I'm not allowing any rest days – so I'm trying to pace myself. Whereas I usually race around like I'm in my own personal Tour de France, now I'm having to reign it in and pace myself to make sure I last the course! As it's so hilly around South Devon, I also need to pick my routes carefully to make sure I don't take on too many challenging rides in close succession.
"I've definitely noticed a huge upsurge in cycling since the start of the pandemic and there are lots more cyclists on the roads. I guess that's one good thing to have come out of this COVID crisis!"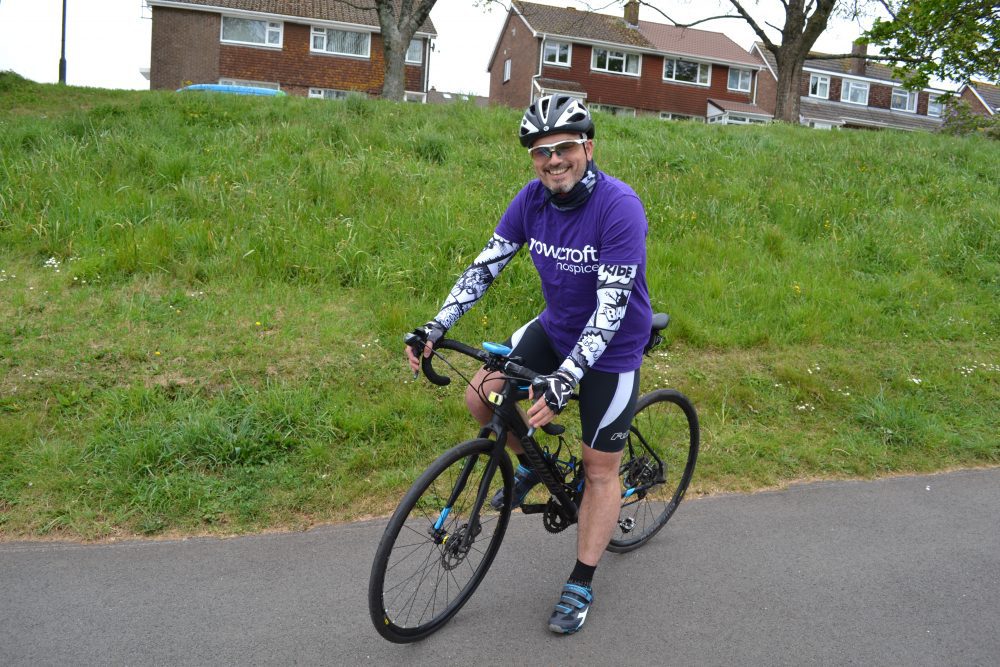 Chris has been a keen cyclist for the last seven years, starting by chance when his daughter first learnt to ride a bike. Due to increasing family commitments over the last couple of years his cycling has been limited to mostly commuting to and from the office. During the Ride for Rowcroft challenge, Chris has been making the most of the wonderful South Devon scenery, cycling from his home in Paignton along the coast and inland to Dartmoor.
"My family life is very busy as my wife and I have a 1 year old, 2 year old and young teen to support, so I'm usually squeezing in my cycling early in the morning before work, or in the evenings after the kids are in bed. That way it doesn't impact too much on my dad duties!
"My legs felt ok in the first few days of my challenge and I seemed to have loads of energy. But from the middle of the first week I really started to feel the lack of rest days! Now, a couple of weeks in, my legs are feeling tired and I'm slowing down a bit, but I'm hoping that I'll soon acclimatise and it will get easier!
"I need extra energy at the moment so I'm eating much more than usual and have stocked up on healthy snacks! I'm definitely mindful of my diet and the fuel I need. I'm eating plenty of carbs and my banana consumption has gone through the roof! I'm also very grateful to Joe Wicks for sharing his recovery shake recipes (who knew that vanilla and spinach could taste so good together?!)
"I know I'm going to have to dig deep to get to the end, but the support of my friends and family and my dedication to Rowcroft are spurring me on."
If you'd like to sponsor Chris and follow his progress, you can do so on his fundraising page at: https://rowcrofthospice.enthuse.com/pf/chris-moores